How Bell's Became So Many People's Local Beer
A Q&A with CEO Laura Bell on preserving company culture while growing aggressively.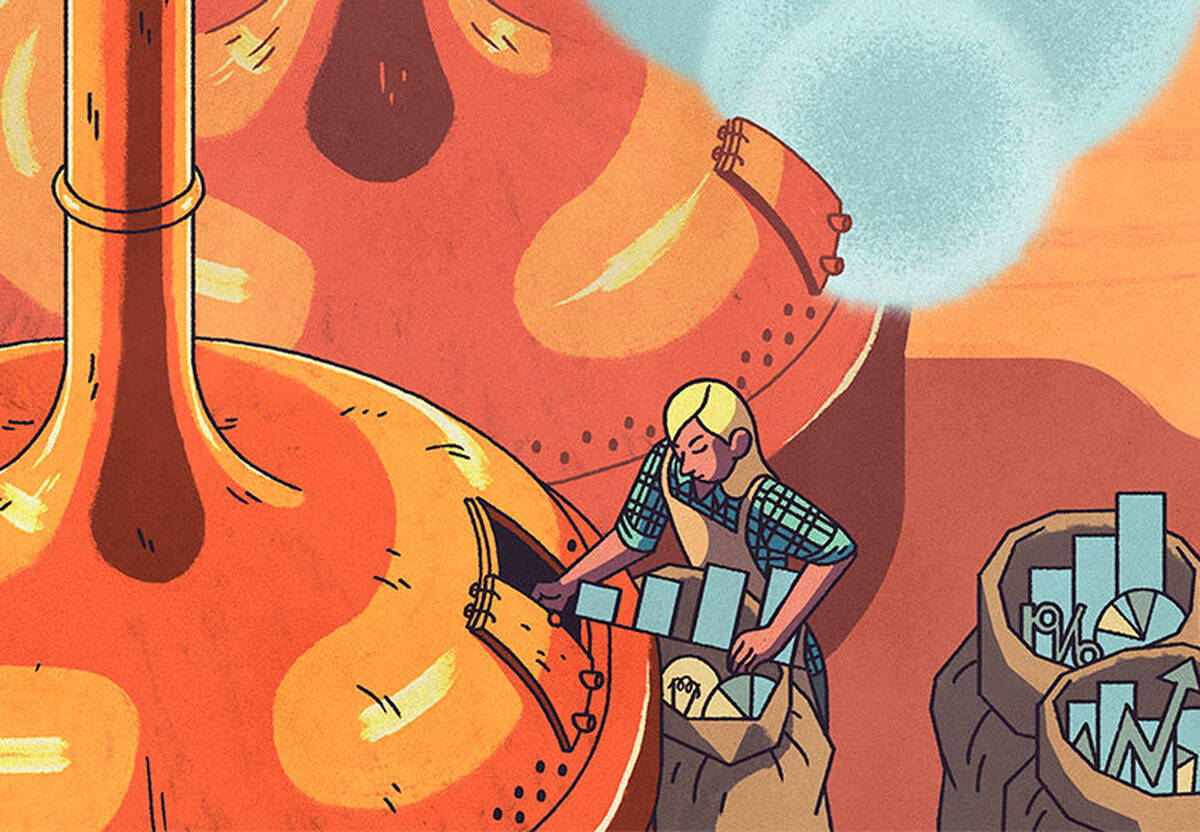 Michael Meier
Over the past decade and a half, the competitive landscape for craft beer has changed drastically. Craft brews have gained a progressively larger share of domestic beer sales, and large conglomerates—looking to get in on the action—have been swallowing up successful regional brewers at increasingly staggering prices. In 2011, Chicago's Goose Island Brewery sold to Anheuser-Busch for $38.8 million. But four years later, San Diego–based Ballast Point Brewery sold to Constellation Brands for $1 billion. That's a lot of beer.
But Bell's Brewery of Kalamazoo and Comstock, Michigan, currently the nation's seventh-largest craft beer producer, has charted a unique path to growth. That path has included staying independent and trusting its nerve in decisions about facilities, talent, and distributor relations. All the while, it has cultivated a "local" identity by building relationships and sponsoring events in its markets.
Laura Bell, chief executive officer at Bell's, recently sat down with Michael Mazzeo, a professor of strategy at the Kellogg School and an expert on growth in midsized companies, to discuss what Bell's has chosen to prioritize on its path to growth.
This interview has been edited for length and clarity.
Michael MAZZEO: When did Bell's decide to shift from being a small company started by your father to one that approached growth more aggressively?
Laura BELL: I don't know that there was any one moment. In 2001–2002 we had pretty much outgrown our small brewery in downtown Kalamazoo, and craft beer was becoming much more of a thing. We made the conscious decision to build a new brewery in Kalamazoo where we would have some space to grow. My dad saw the opportunity and decided to just go with it.
For the longest time, it was a "rising tide raises all boats" situation for craft beer because our competition was the big guys who have been doing it for a really long time. Now, our competition has changed. Craft is much more competitive now than it used to be. Local is competitive.
We continue to be nimble. As we see opportunity, we build, without necessarily thinking, "Once we get to this point, we're going to stop." That might happen at some point, but for now we're still not there.
Learn more about Kellogg's executive education program on competitive strategy with Michael Mazzeo here.
MAZZEO: As a business expands, the C-suite has to choose which decisions it makes and what it delegates. And owning the HR function, rather than delegating it, is often key to maintaining the culture of the organization.

You'd think HR is something that you could farm out—let regional managers do the hiring of the salespeople in their territories. But I've personally seen examples of companies that have held a lot of those hiring, onboarding, and training decisions at the very highest levels because that's a way to maintain consistency.
BELL: Absolutely. Even if it's not hiring every single person, vetting that process and being able to sit through the question development and the onboarding development and saying, "Yes, this reflects what my intentions are" is important.
MAZZEO: So how do you find your representatives? What does your hiring process look like?
BELL: All of our sales reps—and we have almost 100 now—are Bell's employees who live in our sales territories. They work directly with our distributors. They call on accounts. They really know the area.
We can teach them how to run reports and how to make account calls and do these things. We can't teach them to have passion for Bell's. Certainly, that passion grows and develops over time but at the outset, that's a pretty important thing for sales.
We have put a lot of things in place to make us feel confident in our hiring process. A big priority for us has been developing interview questions that are very targeted to the job specifically, and to Bell's culture. We want to be sure that a person is the right fit for us instead of taking our best guess when we're not 100 percent about it. Our onboarding process is also something that we have spent a lot of time developing so people have a good understanding of what goes on before they get to their job.
MAZZEO: In my research, we interviewed a chain of manufacturers of patio bricks. This is a very local business, because bricks are really expensive to ship. The company has these small manufacturing plants all over the place—12 facilities and more than 400 employees—and the CEO does all the hiring and all the performance reviews of everybody in the company.
That takes up half of his time. We were like, "Why are you doing that? That might be a little bit extreme." But he's made this argument that the culture of the company is really important, it is something that he was good at anyway, and there are other things that he felt like he could farm out more easily.
For Bell's, it would seem like these reps on the ground in those locations are going to be really important for executing on growth, above and beyond what a normal salesperson would be responsible for.
"We try to find ways to be faithful and gracious to the people who buy our beer in any area, identifying things that are important to them in that community and being a part of it." — Laura Bell

BELL: What's that cheesy saying, "You only get one chance to make a first impression"?
Certainly, our reps provide first impressions, set the operating standard, explain who we are, how we do things, and what you can expect from us.
We like to think about what sustainable growth looks like. When we go into a new market, we need to be careful about how we develop Bell's relationship with the account. We want to build trust that the product is going to move, that we're going to be a brand that they can rely on. There's a finesse in how we do that that sets a standard for how we want to grow. That doesn't always mean selling every drop of beer we can right from the beginning.
Our representatives are very integral in helping get that rhythm going as the market matures. That means keeping those good initial relationships and then moving forward and developing new ones as we become more of a brand that people have interacted with.
MAZZEO: How is the company able to present Bell's as "local" to a given community, even when that community may be hundreds of miles away from Kalamazoo?
BELL: We try to find ways to be faithful and gracious to the people who buy our beer in any area, identifying things that are important to them in that community and being a part of it.
We say, "Hey, we recognize that we're 300 miles away, but we have people that live in this community that work for Bell's. We have people that buy Bell's and support our product that live in this community, and so we also want to be a part of it." It's really about talking to people, feeling out the landscape, and then making it a priority to participate in something outside of our direct home area.
Our goal is to be around for a long time. So, while it's important that we get it right from the beginning to build trust and a customer base, in some ways there's not a huge rush with that. Not to say that there is no opportunity to be aggressive and make sure that we're there doing what we need to do, but it's a family business. We can be patient.
So, we build and we do what we want to do because it's right for Bell's.
MAZZEO: Can you give us an example of a time that you made one of those "right for Bell's" decisions that paid off?
BELL: Distribution for beer is really set up like a marriage. The laws in most states make it very challenging to separate once you've decided to work together. A number of years ago in Chicago, our distributor was closing and the rights to sell our brands were sold to another distributor, one that we felt didn't understand Bell's and what we were trying to do. We ended up pulling our beer from the Chicago market as we felt it was more important for us to not sell beer than be represented by a company that we didn't feel matched our business culture.
At that point, the decision to pull out negatively impacted our business.
MAZZEO: You walked away from the biggest market in the region.
BELL: Yes. In our minds it was the right thing to do. It was really hard. At that point, Chicago was a big chunk of our business.
But a number of years later, we were able to go back into Chicago, with a distribution network that we selected. In the long run we feel like this decision allowed us to be more successful there.
Featured Faculty
About the Writer
Fred Schmalz is the business editor of Kellogg Insight.
Add Insight to your inbox.