Cul­tures of Trust
The way coun­tries view one anoth­er affects trade and investments.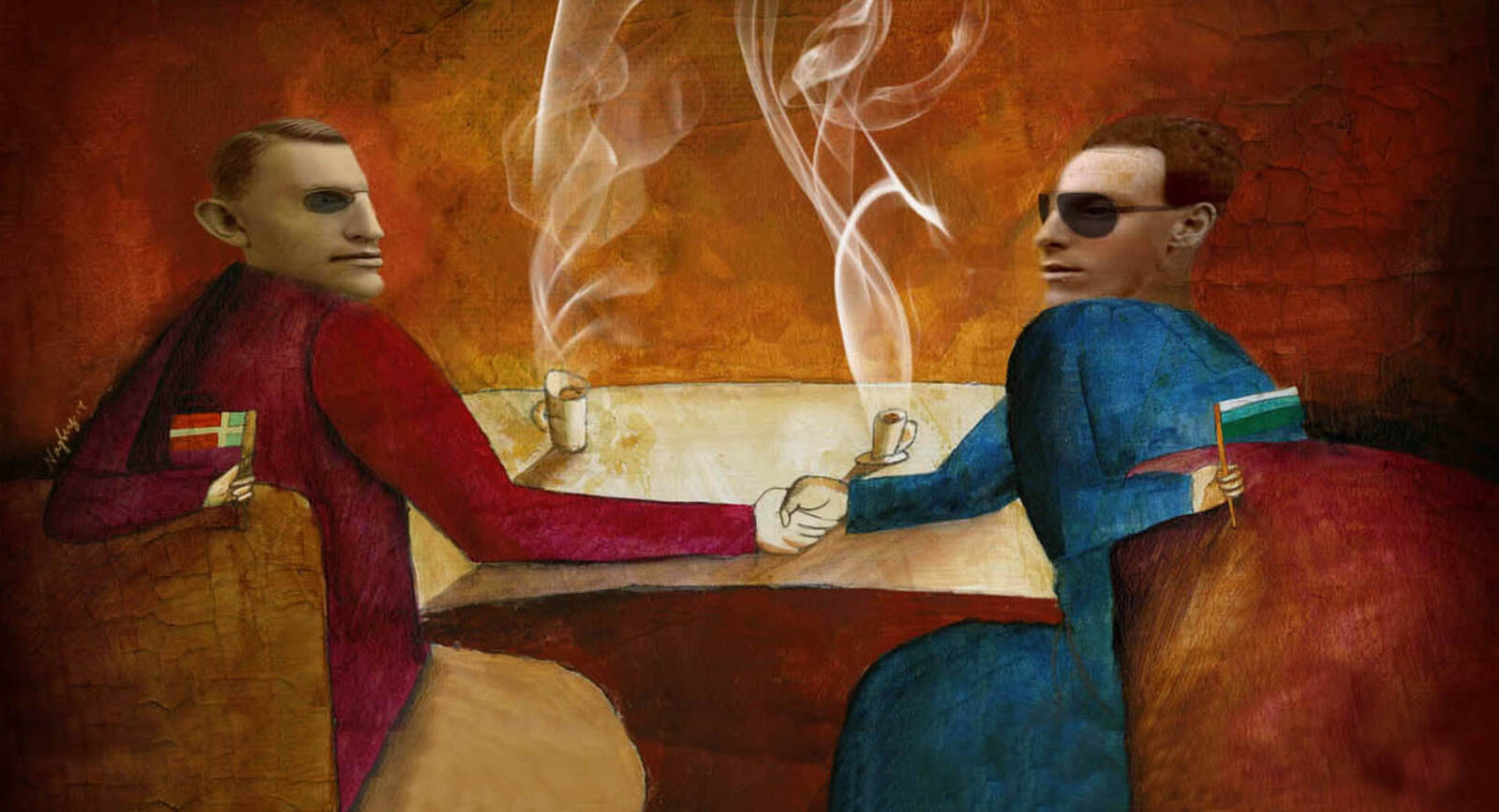 Yevgenia Nayberg
One day, around the time the Unit­ed States invad­ed Iraq, Pao­la Sapien­za was brows­ing a wine store near her home in Evanston, Illi­nois. She noticed some­thing odd: all of the French wines were on sale. When she asked the sales clerk why, he told her, ​"These days, Amer­i­cans don't like any­thing French." France had loud­ly opposed mil­i­tary action in Iraq, and every­body was buzzing about it.
Add Insight
to your inbox.
We'll send you one email a week with content you actually want to read, curated by the Insight team.
The expe­ri­ence got Sapien­za, a pro­fes­sor of finance at the Kel­logg School of Man­age­ment, think­ing — just how much do cul­tur­al bias­es affect the way goods are traded?
As it turns out, quite a lot, accord­ing to a study of Euro­pean coun­tries that she pub­lished in The Quar­ter­ly Jour­nal of Eco­nom­ics with long­time col­lab­o­ra­tors Lui­gi Guiso, a pro­fes­sor at the Euro­pean Uni­ver­si­ty Insti­tute in Italy, and Lui­gi Zin­gales, a pro­fes­sor at the Uni­ver­si­ty of Chica­go. This trio of Ital­ians found that the extent to which peo­ple trust cit­i­zens of anoth­er coun­try plays a sur­pris­ing­ly large role in how much coun­tries trade with each oth­er and invest in one another.
Coun­tries in the Euro­pean Union (EU) that trust each oth­er for cul­tur­al rea­sons tend to trade and invest with each oth­er more than they do with oth­er EU part­ners, the study found. If cul­tur­al bias­es are skew­ing eco­nom­ic pat­terns even with­in the EU — where edu­ca­tion lev­els are high and where a com­mon mar­ket has been expand­ing for decades — they could be even more impor­tant in less pros­per­ous and more frac­tured parts of the world, the researchers say.
It makes intu­itive sense that trust is impor­tant in finan­cial trans­ac­tions. Take invest­ing in the stock mar­ket. ​"In order to invest, you have to trust the bro­ker to exe­cute the order. It even­tu­al­ly goes in a firm, and you have to trust the man­ag­er. Each stage relies on me trust­ing that you're going to do what you say," Sapien­za points out.
Nev­er­the­less, this is one of the few eco­nom­ic stud­ies to dive into cul­tur­al trust. ​"Most econ­o­mists believe that eco­nom­ics affects cul­ture, not the oth­er way around," Sapien­za says. ​"But our assump­tion is that cul­ture is quite persistent."
Test­ing Bilat­er­al Trust
Part of the prob­lem in study­ing cul­tur­al trust is that it is a slip­pery con­cept and comes in many fla­vors. For this study, Sapien­za and col­leagues gleaned trust data from a sur­vey of thou­sands of peo­ple from 17 Euro­pean coun­tries, called Euro­barom­e­ter. This sur­vey peri­od­i­cal­ly asks respon­ders, among many oth­er ques­tions, how much trust they have in peo­ple from oth­er coun­tries: a lot, some, not very much, or none at all? After cod­ing these respons­es, Sapienza's team cal­cu­lat­ed so-called ​"bilat­er­al trust": the extent to which peo­ple from one coun­try trust peo­ple from anoth­er par­tic­u­lar country.
The results indi­cate that the most trust­ed peo­ple are the Swedes and the least trust­ed the Ital­ians (Fig­ure 1). The Por­tuguese and Greeks trust the least, and the Swedes trust the most. But the most inter­est­ing aspect of the data is that peo­ple in dif­fer­ent coun­tries give dif­fer­ent answers regard­ing whom they trust. For instance, Ger­mans trust the British more than the French do. Also, even though Swedes are high­ly trust­ing, they tend to trust neigh­bor­ing coun­tries like Nor­way and Den­mark more than those far­ther away. British peo­ple trust the French even less than the Ital­ians, and the feel­ing is mutu­al: French peo­ple put Eng­land toward the bot­tom of the trust scale. When two sets of peo­ple gauge a country's reli­a­bil­i­ty dif­fer­ent­ly, cul­tur­al pre­con­cep­tions may be at work.
Figure 1. Average level of trust citizens in one country (rows) have in citizens of another (columns). Range is from 1–4, where 1 = "No trust at all" and 4 = "A lot of trust".
"Pri­or bias­es are gen­er­al­ly root­ed in cul­ture. So we want­ed to fig­ure out, what are the spe­cif­ic cul­tur­al traits that dri­ve bilat­er­al trust?" Sapien­za says. One is reli­gion. When two coun­tries have 90 per­cent of their cit­i­zens shar­ing a reli­gion — such as Italy and Spain, which are pre­dom­i­nant­ly Catholic — they may trust each oth­er sig­nif­i­cant­ly more than do two coun­tries that prac­tice dif­fer­ent religions.
The researchers probed less obvi­ous cul­tur­al vari­ables as well. For exam­ple, they com­pared the trust rank­ings to mea­sures of ​"genet­ic dis­tance" — how sim­i­lar a population's genes are — and ​"somat­ic dis­tance," which is a mea­sure of phys­i­cal sim­i­lar­i­ties such as hair col­or, face shape, and height. For both genet­ic and somat­ic mea­sures, the more sim­i­lar the cit­i­zens of two coun­tries, the high­er their bilat­er­al trust.
Final­ly, the researchers con­sid­ered the his­to­ry of war between two coun­tries. When Sapien­za was grow­ing up in Italy, most of her his­to­ry class­es cen­tered on the Ital­ian uni­fi­ca­tion of the late 19th cen­tu­ry, a peri­od in which Italy fre­quent­ly faced off against Aus­tria. Ital­ian chil­dren tend to have a grudge against Aus­tria, Sapien­za says. ​"It's just a gut feel­ing you grow up with." Sure enough, her data shows that coun­tries with a long his­to­ry of war — such as Eng­land and France, and Italy and Aus­tria — trust each oth­er less.
More Than Just Sore Feelings
These pat­terns are inter­est­ing in them­selves, but as Sapien­za real­ized in the wine shop, they can also bring real eco­nom­ic con­se­quences. Ana­lyz­ing the World Trade Data­base, a col­lec­tion of sta­tis­tics show­ing pat­terns of import­ing and export­ing between dif­fer­ent coun­tries over time, she found that the high­er the bilat­er­al trust, the more like­ly those coun­tries will trade with each oth­er. The effect is robust: one stan­dard devi­a­tion increase in trust increas­es exports to a coun­try by 10 per­cent­age points. What's more, she found that bilat­er­al trust tilts port­fo­lio allo­ca­tion toward stocks of anoth­er country.
The find­ings are even more strik­ing con­sid­er­ing that, when com­pared with the rest of the world, Euro­pean coun­tries have fair­ly homoge­nous eth­nic pop­u­la­tions and sim­i­lar cul­tures. The researchers sus­pect that when coun­tries have more strik­ing dif­fer­ences, the effects of cul­ture on eco­nom­ics would be even more pronounced.
Intrigu­ing­ly, Sapien­za says that cul­tur­al fac­tors are not like­ly to have much of an impact on the trad­ing of com­modi­ties, such as oil or sug­ar. In these cas­es, basic sup­ply-and-demand con­sid­er­a­tions tend to dri­ve trade. The Unit­ed States, for instance, eager­ly buys oil from the Mid­dle East, despite enor­mous cul­tur­al and polit­i­cal hur­dles. But when qual­i­ty mat­ters, cul­tur­al fac­tors do, too: Amer­i­cans buy lots of Ger­man cars and French bot­tles of wine — unless, of course, the cul­tur­al tide turns.
Trans­lat­ing these find­ings into pol­i­cy dis­cus­sions is not easy. ​"It's very dif­fi­cult to change people's bias­es, espe­cial­ly when it's a col­lec­tive bias," Sapien­za says. ​"Still, I think it's impor­tant for man­agers to know that a neg­a­tive image could have a big impact on the abil­i­ty to sell goods."
Featured Faculty
About the Writer
Virginia Hughes is a freelance science writer based in Brooklyn, New York.
About the Research
Guiso, Luigi, Paola Sapienza, and Luigi Zingales. 2009. "Cultural Biases in Economic Exchange." The Quarterly Journal of Economics. 124(4): 1095-1131.
Suggested For You
Most Popular
Most Popular Podcasts