Do High-Frequency Traders Deserve Their Bad Rap?
Do High-Fre­quen­cy Traders Deserve Their Bad Rap?
Though sus­pi­cions abound, HFTs gen­er­al­ly help mar­kets func­tion and grow.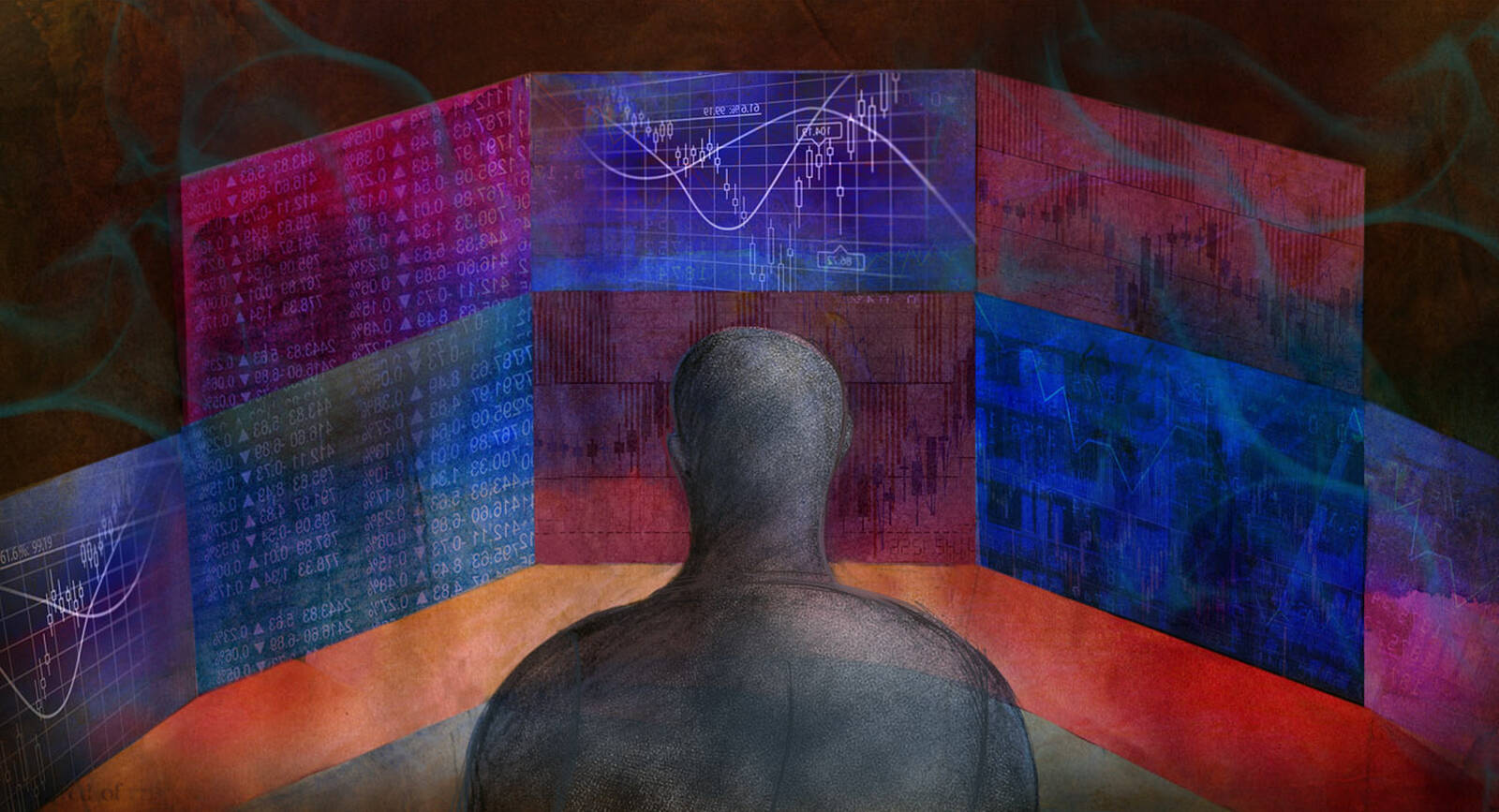 High-fre­quen­cy traders have a bad rap. One minute, they are being blamed for bizarre mar­ket behav­ior like the ​"flash crash" of 2010 — which saw the Dow Jones Indus­tri­al Aver­age lose and regain near­ly 1,000 points over the course of 36 min­utes. The next, they are being pil­lo­ried on best-sell­er lists for gam­ing the finan­cial sys­tem with high-tech skul­dug­gery, as in Michael Lewis's 2014 non­fic­tion book Flash Boys. And Hillary Clinton's lat­est tax plan aims to squelch the prac­tice. Are high-fre­quen­cy traders (HFTs) real­ly the dev­ils we make them out to be?
Check out more of our time­ly growth con­tent here.
To get at the answer, Robert Kora­jczyk, a pro­fes­sor of finance at the Kel­logg School of Man­age­ment, asks a dif­fer­ent, but relat­ed, ques­tion: ​"So how do they make their mon­ey?" Kora­jczyk, along with Der­mot Mur­phy of the Uni­ver­si­ty of Illi­nois at Chica­go, find that HFTs gen­er­al­ly prof­it by pro­vid­ing liq­uid­i­ty to the mar­ket — sug­gest­ing that their unsa­vory rep­u­ta­tion may be unwarranted.
HFTs as Back Runners
"There are all kinds of ques­tions about the effect of HFTs on mar­kets," Kora­jczyk says, but they boil down to two basic suspicions.
Add Insight
to your inbox.
We'll send you one email a week with content you actually want to read, curated by the Insight team.
The first is that HFTs prof­it by using their speed advan­tage to exploit large insti­tu­tion­al trades, in which large ​"par­ent orders" are exe­cut­ed with many small­er ​"child orders" over the course of hours or days.
"If I want­ed to buy 10,000 shares of Apple, I wouldn't put out a sin­gle order — I'd put out small­er chunks over time," Kora­jczyk explains. ​"HFTs are not privy to inside infor­ma­tion, which would be ille­gal. But they do see the flow of these child orders. An HFT can infer that there's a larg­er order hap­pen­ing, and then they can trade quick­ly in antic­i­pa­tion of the oth­er orders that are coming."
This behav­ior, known in acad­e­mia as ​"back run­ning," can push up the prices of sub­se­quent child orders with­in the large trade. (Back run­ning also works the oth­er way around: if an insti­tu­tion is try­ing to sell off a large num­ber of hold­ings, HFTs can dri­ve down prices by trad­ing in antic­i­pa­tion of the child sell orders.)
HFTs per­form a use­ful func­tion in finan­cial exchange mar­kets by pro­vid­ing liq­uid­i­ty, since they nev­er hold their posi­tions for long. Ide­al­ly, this should work to the ben­e­fit of insti­tu­tions seek­ing to make large or ​"stress­ful" trades — gen­er­al­ly those involv­ing more than half a mil­lion dol­lars. But back run­ning invites sus­pi­cion that HFTs are actu­al­ly incen­tivized to hin­der stress­ful trades by buy­ing or sell­ing in antic­i­pa­tion of child orders, an activ­i­ty which changes their pric­ing dynam­ics — pre­sum­ably in HFTs' favor.
While back run­ning is not ille­gal, it is the kind of ​"dirty trick" that con­tributes to HFTs' bad rep­u­ta­tion. The trou­ble is, accord­ing to Kora­jczyk, the num­bers behind that rep­u­ta­tion don't add up. After ana­lyz­ing 150,000 large insti­tu­tion­al trades on Cana­di­an equi­ties exchanges, Kora­jczyk and Mur­phy dis­cov­ered that ​"HFTs are actu­al­ly los­ing mon­ey on their trad­ing activ­i­ty," he says.
Their analy­sis showed that in aggre­gate, the trad­ing posi­tions of HFTs result­ed in a dai­ly net loss of $100 per stock — pre­cise­ly the oppo­site of what one would expect if back run­ning were in HFTs' eco­nom­ic inter­est. ​"Giv­en all the alle­ga­tions of how HFTs are hurt­ing these large insti­tu­tion­al trades, you'd expect them to be mak­ing prof­its on their own trad­ing," says Kora­jczyk. ​"But they're not."
"High fre­quen­cy traders are actu­al­ly los­ing mon­ey on their trad­ing activity."
Fol­low the Money
Instead, HFTs make their net prof­its by gen­er­at­ing ​"maker's fees" — per-trans­ac­tion rebates issued by a finan­cial exchange in order to incen­tivize liq­uid­i­ty pro­vi­sion in mar­kets, lead­ing to nar­row spreads between bid and ask prices. Each maker's fee ​"isn't huge — it could be only 20 hun­dredths of a cent per share," says Kora­jczyk. But those tiny amounts add up: so much so, in fact, that on aver­age they can­cel out the neg­a­tive posi­tions on the trades them­selves and leave HFTs $300 in the black per stock each day. ​"Our evi­dence indi­cates that on aver­age," says Kora­jczyk, ​"the HFTs are mak­ing mon­ey by pro­vid­ing liq­uid­i­ty" — exact­ly how they are sup­posed to, in oth­er words.
Which brings up the sec­ond sus­pi­cion about HFTs' activ­i­ty on finan­cial exchanges: that they gen­er­ate more ​"phan­tom liq­uid­i­ty" than the gen­uine arti­cle. The con­cept of phan­tom liq­uid­i­ty depends, again, on HFTs' speed advan­tage in the con­text of large par­ent orders exe­cut­ed in small­er batch­es over time. If HFTs dis­cern that a large trade in progress is stress­ful, then HFTs may start com­pet­ing direct­ly with that institution's child orders."They'll pro­vide liq­uid­i­ty for the trade at the begin­ning of the par­ent order, but lat­er they'll be trad­ing in the same direc­tion," Kora­jczyk explains. ​"If Investor A wants to buy a lot of one stock, at the begin­ning the HFTs are sell­ing — but lat­er on, they're buy­ing more of that stock them­selves than sell­ing it to Com­pa­ny A." Like a phan­tom, the expect­ed liq­uid­i­ty in Investor A's trans­ac­tion sud­den­ly disappears.
The research from Kora­jczyk and Mur­phy, who received his Ph.D. from Kel­logg, does pro­duce a smok­ing gun for this behav­ior: large stress­ful trades had an aver­age bid – ask spread three to four times high­er than non-stress­ful trades, due to HFTs ​"back­ing off" from pro­vid­ing liq­uid­i­ty to the stress­ful trans­ac­tions. ​"Nev­er­the­less," he adds, ​"even for those stress­ful trades, on aver­age the HFTs are still pro­vid­ing liq­uid­i­ty to the mar­ket because that's where their prof­its are com­ing from."
A Nec­es­sary Evil?
"Are HFTs evil, or just smart?" Kora­jczyk says. ​"It depends on your point of view. For the aver­age big fund, they're only hap­py if they can trade what­ev­er they want with no price impact. But if you're an HFT, why should you just take all their [child] orders when the infor­ma­tion in the order flow is telling you some­thing about the val­ue of the under­ly­ing asset? There's a lot of debate, but there isn't a con­sen­sus about what would be an opti­mal mar­ket structure."
High-fre­quen­cy traders do have an incen­tive to max­i­mize their speed advan­tage by any means nec­es­sary — even spend­ing hun­dreds of mil­lions of dol­lars to install their own fiber-optic links between exchanges in New York and Chica­go, as Michael Lewis's Flash Boys described. Kora­jczyk admits that ​"spend­ing that much on a speed improve­ment that just trans­fers wealth from one group of investors to anoth­er is not nec­es­sar­i­ly social­ly opti­mal." And yet, tech­nol­o­gy march­es on. ​"Should we all still be using paper cards to trade stocks?" he says. ​"Obvi­ous­ly we need exchanges that can han­dle high vol­ume and oper­ate smooth­ly. But the debate is about whether we've gone too far in opti­miz­ing for speed. How much bet­ter is the world if prices can adjust in four mil­lisec­onds instead of a hun­dred? It's an arms race."
Just as killing all the mos­qui­tos on earth in order to cure malar­ia could change the world's ecosys­tems in unpre­dictable ways, remov­ing or con­strain­ing HFTs — even for noble rea­sons — would have a rip­ple effect on the behav­ior of finan­cial exchanges that could affect even indi­vid­ual invest­ments. ​"If you're a lit­tle guy like a day trad­er, hav­ing HFTs around is a good thing," says Kora­jczyk, because their activ­i­ty com­press­es the bid – ask spread on stocks down to mere pen­nies per share. ​"But if you're anoth­er lit­tle guy who's putting his mon­ey in a huge mutu­al fund, you're going to be affect­ed when that huge fund starts trad­ing in and out of posi­tions and the HFTs respond."
Still, Korajczyk's find­ings make it clear that pol­i­cy mak­ers who want to rein in high-fre­quen­cy traders may have to find dif­fer­ent crimes to pin on them than they first thought. HFTs may be good guys, bad guys, or some­thing in between.
Featured Faculty
About the Writer
John Pavlus is a writer and filmmaker focusing on science, technology, and design topics. He lives in Portland, Oregon.
About the Research
Korajczyk, Robert, and Dermot Murphy. 2014. "High-Frequency Market Making to Large Institutional Trades." Working paper.
Suggested For You
Most Popular
Most Popular Podcasts
Trending
More in Finance & Accounting