Alaskans Get an Annual Check from the State. How Do They Spend It?
Alaskans Get an Annual Check from the State. How Do They Spend It?
The answer depends on a family's income, but not in the way many economists expected.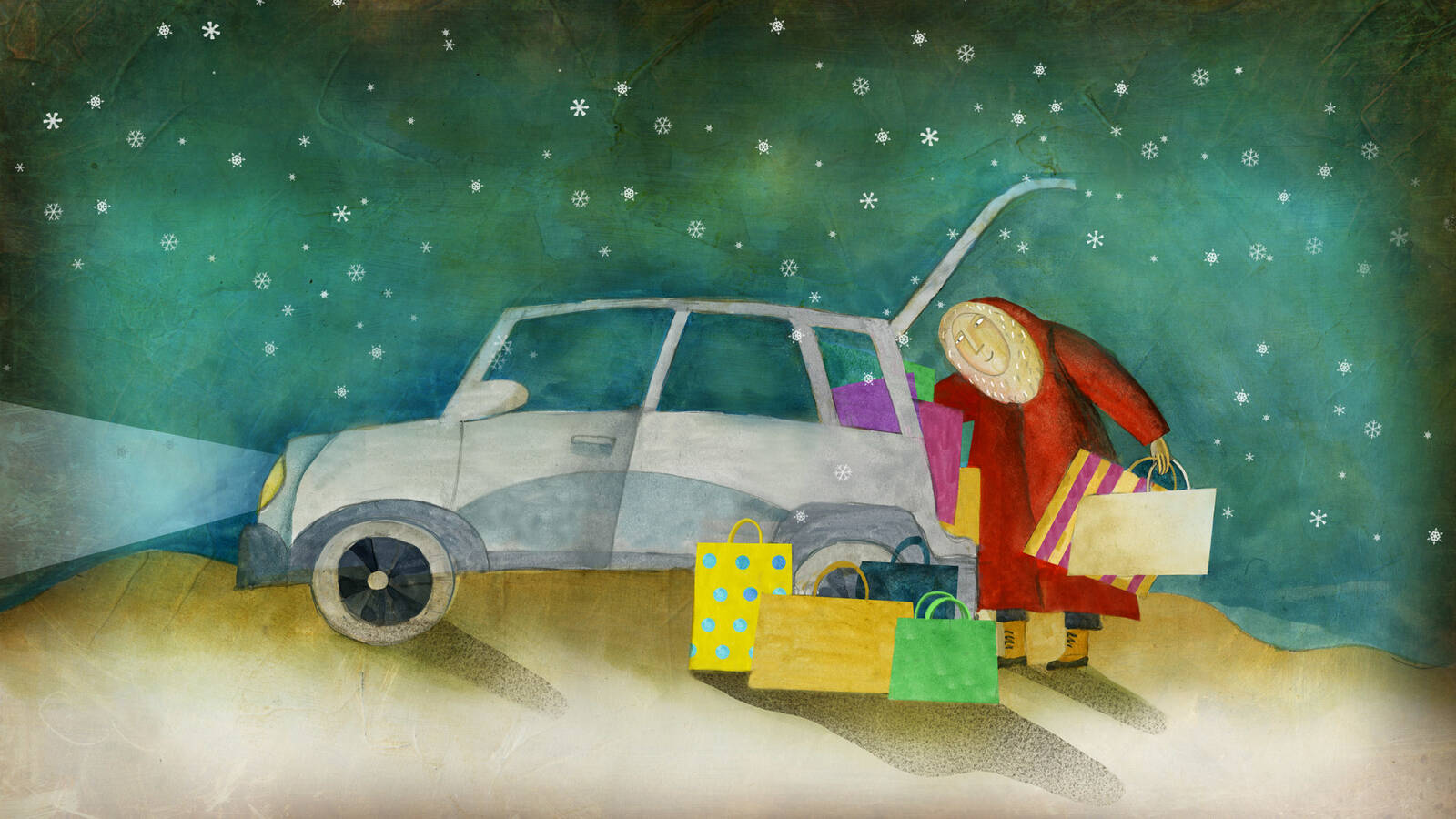 Let's say the government sent everyone a check for a thousand dollars each year. Would people spend the money immediately or squirrel most of it away? And how does this differ for families with higher versus lower annual incomes?
Add Insight
to your inbox.
We'll send you one email a week with content you actually want to read, curated by the Insight team.
This is not a hypo­thet­i­cal ques­tion. In Alas­ka, most res­i­dents receive annu­al div­i­dend pay­ments from the state's Alas­ka Per­ma­nent Fund (APF). The fund, estab­lished in the 1970s, gen­er­ates the mon­ey by invest­ing oil-relat­ed rev­enue. While the div­i­dend amount fluc­tu­ates from year to year, the media's fore­casts are gen­er­al­ly accu­rate, and the offi­cial num­ber is announced short­ly before checks are issued each Octo­ber. For Alaskans, the APF offers a fair­ly pre­dictable source of extra income.
The state's unique sit­u­a­tion allowed Lorenz Kueng, an assis­tant pro­fes­sor of finance at the Kel­logg School, to test some ideas about con­sumer spend­ing. Under­stand­ing how peo­ple respond to a check from the gov­ern­ment could help pol­i­cy­mak­ers design more effec­tive eco­nom­ic stim­u­lus pro­grams, which are geared toward infus­ing the econ­o­my with a lot of con­sumer spend­ing all at once.
Increased spend­ing boosts demand for prod­ucts and ser­vices and can thus affect employ­ment, invest­ments, and inter­est rates. Yet, if peo­ple are squir­rel­ing their mon­ey away, then the spend­ing boost might not happen.
Kueng found that Alaskans tend to spend a good chunk of their div­i­dend checks quick­ly — thus pro­vid­ing a clear eco­nom­ic stim­u­lus. But much of that is dri­ven by rich­er house­holds. The results con­tra­dict an assump­tion among many econ­o­mists that low­er-income peo­ple, who have less sav­ings and cred­it, are more like­ly to spend the mon­ey right away.
"This is one of the old­est ques­tions in empir­i­cal eco­nom­ics. It's at the heart of a lot of the dis­agree­ments in the profession."

Even if it is not com­ing from the expect­ed demo­graph­ic, the study sug­gests that, at least in this par­tic­u­lar sce­nario, these gov­ern­ment checks have a large impact on the local economy.
"Every year, high­er-income house­holds pro­vide a lot of stim­u­lus to the Alaskan econ­o­my," Kueng says.
Spend or Save?
Kueng's research address­es the long-debat­ed ques­tion of how con­sumers respond to changes in income. ​"This is one of the old­est ques­tions in empir­i­cal eco­nom­ics," Kueng says. ​"It's at the heart of a lot of the dis­agree­ments in the profession."
In the 1930s, econ­o­mist John May­nard Keynes sug­gest­ed that peo­ple spent a fair­ly con­stant frac­tion of any mon­ey that came their way. For instance, if a per­son usu­al­ly spent 30% of his salary and then received a $1,000 bonus, he would spend about $300 of that payment.
A cou­ple decades lat­er, econ­o­mist Mil­ton Fried­man argued that con­sumers were more for­ward-look­ing. Instead of spend­ing extra income right away, they would try to smooth out spend­ing over a longer time peri­od. This idea is called the ​"per­ma­nent income hypoth­e­sis." The hypoth­e­sis also con­tends that con­sumers start spend­ing extra when they learn that their long-term income may increase, which can hap­pen before they actu­al­ly receive that money.
The cur­rent con­sen­sus lies some­where between those two the­o­ries, Kueng says. Some researchers have report­ed that peo­ple do spend a sub­stan­tial frac­tion of eco­nom­ic stim­u­lus pay­ments from the gov­ern­ment imme­di­ate­ly after receiv­ing them. But this spend­ing is often con­cen­trat­ed among poor­er house­holds. So per­haps their behav­ior could be due to a lack of sav­ings and cred­it, and not because they were choos­ing not to be for­ward-look­ing. Plus those checks were fair­ly small — typ­i­cal­ly a few hun­dred dol­lars per house­hold. If the pay­ments were big­ger, per­haps con­sumers would be more ratio­nal and spend less of the money.
Enter the APF. The pro­gram pro­vides a good test of this lat­ter argu­ment because the checks are quite large, typ­i­cal­ly about $1,000 to $2,000 per per­son and about $4,000 for the typ­i­cal Alaskan house­hold. Anoth­er advan­tage is that Kueng could bet­ter sep­a­rate the effects of the pay­ments from oth­er fac­tors. Spend­ing pat­terns after a stim­u­lus pro­gram might part­ly reflect the cri­sis that led to the stim­u­lus in the first place, but the APF div­i­dends are less close­ly tied to the economy.
Pre­dictable Payments
To gath­er data, Kueng turned to a per­son­al finance web­site where peo­ple logged spend­ing by link­ing their cred­it-card accounts, as well as bank-account deposits, includ­ing the div­i­dend checks. He obtained anonymized records on 1,379 Alaskan house­holds from 2010 to 2014; anoth­er 2,191 house­holds in Wash­ing­ton state act­ed as a con­trol group.
Then Kueng exam­ined spend­ing on ser­vices, such as health care and enter­tain­ment, and so-called ​"non-durable" items that were like­ly to be con­sumed quick­ly, such as food, alco­hol, and cloth­ing. This left out long-last­ing ​"durable" items, such as cars and fur­ni­ture, which he exclud­ed from the study because it would not be clear whether con­sumers bought them in response to the checks or if they would have pur­chased them at some point over the next sev­er­al years anyway.
He found that on aver­age, Alaskans spent 28% of the div­i­dend check on non-durable items and ser­vices with­in three months of receiv­ing the check. That frac­tion is com­pa­ra­ble to the amount that con­sumers were report­ed to spend from the small­er checks issued as part of pro­grams such as the 2001 and 2008 Bush tax rebates.
In addi­tion, Kueng found no evi­dence that peo­ple start­ed spend­ing more in antic­i­pa­tion of the Octo­ber pay­ments. He did not see an uptick in the sum­mer, when the media start­ed pre­dict­ing the amount of that year's div­i­dend, or in Sep­tem­ber, when the amount was for­mal­ly announced.
Those results con­tra­dict the tenet of the per­ma­nent income hypoth­e­sis that sug­gests that con­sumers change their spend­ing behav­ior when they receive new infor­ma­tion about their income. If that were the case, peo­ple with suf­fi­cient sav­ings and cred­it would have increased their spend­ing in the months lead­ing up to the div­i­dend check. What Kueng saw in the data is ​"clear­ly going against that," he says.
Fun Mon­ey
How­ev­er, not all house­holds respond­ed the same way.
Kueng divid­ed them into five groups based on income, with the rich­est group earn­ing an aver­age of $104,000 per per­son annu­al­ly and the poor­est an aver­age of $16,000. The wealth­i­est house­holds spent an aver­age of 61% of the check in the first quar­ter after receiv­ing it, while those at the bot­tom of the eco­nom­ic lad­der spent only 12%.
At first, Kueng was sur­prised. But upon fur­ther reflec­tion, he real­ized that house­holds were exhibit­ing ​"near-ratio­nal­i­ty." Peo­ple may act slight­ly irra­tional­ly — for instance, spend­ing a wind­fall all at once instead of sav­ing it — if the con­se­quences are not severe. ​"They only make mis­takes if it doesn't mat­ter much for them," he says. In this case, the rich might treat the div­i­dend check like fun mon­ey that they spend friv­o­lous­ly once a year.
"They could eas­i­ly save it or they could eas­i­ly spend it, and it wouldn't mat­ter either way," he says. Low­er-income house­holds, on the oth­er hand, might depend so heav­i­ly on the extra mon­ey that they behave more fru­gal­ly and save most of the pay­ment for crit­i­cal expens­es that will arise later.
More research is need­ed to under­stand the rea­sons behind the rich house­holds' behav­ior, Kueng says. It is pos­si­ble that the annu­al div­i­dend has become a social event among Alaskans. Per­haps wealthy peo­ple cel­e­brate each year by going out for a fan­cy meal or shop­ping togeth­er, he spec­u­lates. If so, this might not make it the best vehi­cle for pre­dict­ing respons­es to fed­er­al eco­nom­ic stim­u­lus payments.
Still, the results cast doubt on sim­plis­tic pol­i­cy rec­om­men­da­tions that all stim­u­lus pay­ments should be tar­get­ed at low­er-income house­holds, he says.
"You're try­ing to give it to peo­ple that you think are most like­ly to spend it," he says. ​"That's why they usu­al­ly tend to tar­get low­er-income households."
In addi­tion, hand­ing out stim­u­lus checks to rich peo­ple would be polit­i­cal­ly unpop­u­lar. But he says, ​"we can­not eas­i­ly dis­miss high-income house­holds as not pro­vid­ing any stimulus."
Featured Faculty
About the Writer
Roberta Kwok is a freelance science writer based near Seattle.
About the Research
Kueng, Lorenz. 2015. "Explaining Consumption Excess Sensitivity with Near-Rationality: Evidence from Large Predetermined Payments." NBER Working Paper No. 21772.
Suggested For You
Most Popular
Most Popular Podcasts
Trending
More in Finance & Accounting