What Happens When a Company Loses a Patent?
What Hap­pens When a Com­pa­ny Los­es a Patent?
A look at whether com­pul­so­ry licens­ing can increase innovation.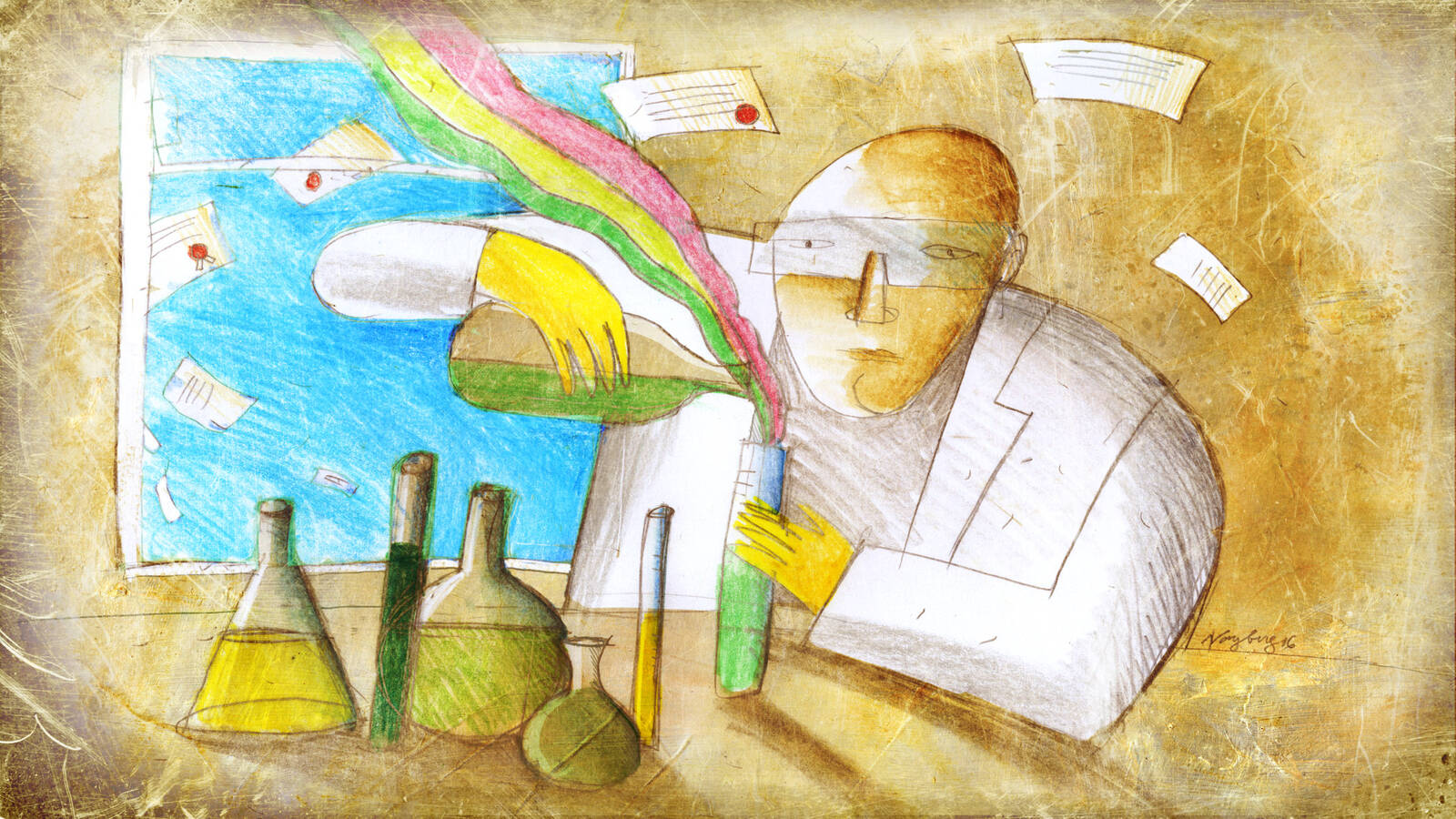 Yevgenia Nayberg
What hap­pens when a crit­i­cal med­ica­tion, say an HIV drug, is over­priced com­pared with its cost in a neigh­bor­ing coun­try? Or when the sup­ply runs short in a for­eign land?
One option is for the affect­ed country's gov­ern­ment to license for­eign-owned patents to local firms with­out the con­sent of the patent's own­er. Called com­pul­so­ry licens­ing (CL), it can be a boon — even a life­saver — for patients. But drug com­pa­nies argue that over­rid­ing patents harms them finan­cial­ly, which makes them less like­ly to devel­op new drugs or to improve old ones.
Does their argu­ment hold water? Does com­pul­so­ry licens­ing harm innovation?
The Kel­logg School's Nico­la Bianchi and coau­thors tack­led this ques­tion by ana­lyz­ing an episode of CL trig­gered by World War I. In 1918, the U.S. con­fis­cat­ed thou­sands of Ger­man-owned patents under the Trad­ing With the Ene­my Act (TWEA). While the boom in Amer­i­can inno­va­tion fol­low­ing this peri­od is well stud­ied, no one has pre­vi­ous­ly exam­ined how CL affect­ed the Ger­man inven­tors who lost their patents.
The researchers found that, in this sce­nario, hav­ing a patent licensed by the U.S. actu­al­ly increased innovation.
Fall­out from the Trad­ing With the Ene­my Act
The bulk of licens­ing of con­fis­cat­ed Ger­man patents took place between 1919 and 1922, when the U.S. licensed 1,246 patents to Amer­i­can firms.
"Firms that lost their patents in the U.S. patent­ed a lot more in the tech­no­log­i­cal area where they lost the patent."
Add Insight
to your inbox.
We'll send you one email a week with content you actually want to read, curated by the Insight team.
Bianchi teamed up with Joerg Bat­en of Germany's Eber­hard-Karls Uni­ver­si­ty and Petra Moser at New York Uni­ver­si­ty to con­duct the research based on new­ly avail­able Ger­man patent data from 1900 – 1930.
The team decid­ed to focus its study on chem­i­cal patents. They start­ed by exam­in­ing all 79,591 patents issued to Ger­mans for chem­i­cals. Chem­i­cal patents were issued into more than 200 sub­class­es, 79 per­cent of which con­tained at least one patent con­fis­cat­ed by the U.S.
They then used these patent sub­class­es to com­pare how com­pul­so­ry licens­ing affect­ed dif­fer­ent chem­i­cal research areas or ​"fields." The researchers found that in those fields that had been affect­ed by CL, Ger­mans applied for about 3 addi­tion­al patents per year after 1918 — a jump of about 28%. In fields that had not had any patents over­rid­den, patent­ing out­put stayed flat.
And, though they are an imper­fect mea­sure, patents are a good way to study inno­va­tion, Bianchi explains.
"The idea here is that we're mea­sur­ing tech­no­log­i­cal out­put by count­ing the num­ber of patents," Bianchi says.
Focus­ing on High-Val­ue Patents
Of course, not all patents rep­re­sent a valu­able innovation.
Some­times patents are applied for mere­ly as a strat­e­gy to block a competitor's research. Bianchi and his team want­ed to know if the increase in patent­ing activ­i­ty rep­re­sent­ed an uptick in mean­ing­ful inno­va­tion or whether it was sim­ply part of a chess move.
To find out, the researchers looked at the num­ber of times that the patents had been renewed by their Ger­man inven­tors, both before and after 1918. Pre­vi­ous research estab­lished that patent-renew­al activ­i­ty is a good proxy for patent val­ue. The longer the renew­al peri­od, the more valu­able the patent, and the more like­ly that it rep­re­sents true inno­va­tion. They deemed patents that were not renewed for at least five years to be low value.
After weed­ing out the low-val­ue patents, the researchers found a 17 per­cent increase in high-val­ue patent activ­i­ty in fields with CL dur­ing the post-war years com­pared with pre-war years.
CL and Competition
While com­pul­so­ry licens­ing in a giv­en field did appear to spur inno­va­tion in that field, this does not nec­es­sar­i­ly mean that the indi­vid­ual Ger­man com­pa­nies whose patents were poached came out ahead. What did their patent activ­i­ty look like?
Bianchi's team was able to iden­ti­fy 50 Ger­man firms that had at least one of their chem­i­cal patents licensed under the TWEA. They found that firms whose patents had been poached applied for an addi­tion­al 0.42 patents in fields with CL after 1918. Giv­en that firms applied for an aver­age of 0.46 patents per firm per year before 1918, this equals a whop­ping 91 per­cent increase.
This increase was strongest in fields where com­pe­ti­tion had been low pri­or to 1918. Put sim­ply, CL was high­ly effec­tive in fos­ter­ing inven­tion because com­pe­ti­tion bal­looned in fields where it had pre­vi­ous­ly been weak.
"Firms that lost their patents in the U.S. patent­ed a lot more in the tech­no­log­i­cal area where they lost the patent," Bianchi says. ​"That is an impor­tant result, because it says that the firms which were direct­ly harmed by com­pul­so­ry licens­ing patent­ed more in the same tech­no­log­i­cal areas."
In oth­er words, patent losers did not throw up their hands and quit inventing.
"One-Shot Events" Are Key
Giv­en the unique­ness of the peri­od stud­ied, it would be sim­plis­tic to gen­er­al­ize these find­ings to sug­gest that CL always leads to increased inno­va­tion and com­pe­ti­tion. Still, lessons can still be gleaned.
While the patent con­fis­ca­tions under the TWEA were per­ma­nent — an unlike­ly action nowa­days — firms could expect that such patent seizures would not hap­pen again. After all, the TWEA was first and fore­most a wartime mea­sure. This cre­at­ed a per­cep­tion that the CL episode was a ​"one-shot event," as Bianchi terms it.
Bianchi says that know­ing CL will not be repeat­ed the next time a valu­able patent is issued is key to using it to boost innovation.
One-shot events sig­nal that though inven­tors may lose their com­pet­i­tive edge tem­porar­i­ly, all is not lost, because they can regain it with their next innovation.
"What real­ly mat­ters here is the expec­ta­tion that firms have about com­pul­so­ry licens­ing in the future," Bianchi says.
"Com­pul­so­ry licens­ing shouldn't be invoked just to give an advan­tage to local domes­tic indus­tries," Bianchi cau­tions. ​"Gov­ern­ments need to agree to only do this to help in crises or events where com­pul­so­ry licens­ing will gen­er­ate a greater good, and we know there are cas­es where the greater good should def­i­nite­ly pre­vail against pri­vate interests."
Featured Faculty
About the Writer
T. DeLene Beeland is a science writer based in Asheville, NC.
About the Research
Bianchi, Nicola, Petra Moser, and Joerg Baten. 2015. "Does Compulsory Licensing Discourage Invention? Evidence From German Patents After WWI." Working paper.
Suggested For You
Most Popular
Most Popular Podcasts