You Can Taste the Benevolence
You Can Taste the Benevolence
If your cus­tomers know you donate to char­i­ty, will they like your prod­ucts more?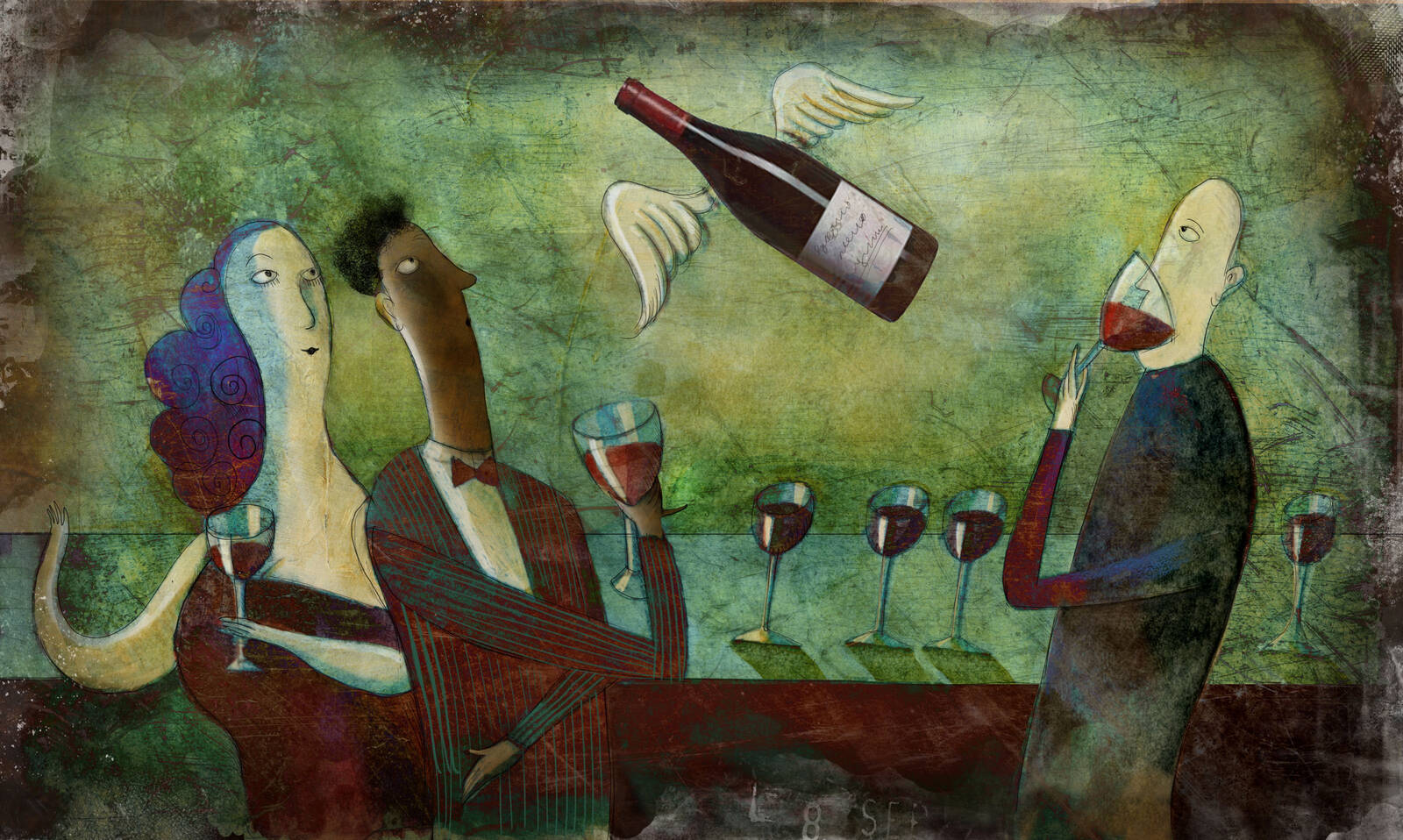 Yevgenia Nayberg
Does wine taste bet­ter if you know the vint­ner donates to a wor­thy char­i­ty? Will a teeth whiten­er make your pearly whites look even whiter if the man­u­fac­tur­er funds child relief efforts?
The answer, accord­ing to new research from the Kel­logg School, is yes.
Many com­pa­nies engage in cor­po­rate social respon­si­bil­i­ty at least part­ly as a mar­ket­ing effort — a way to enhance the rep­u­ta­tion of a company's brand. But Alexan­der Chernev, a pro­fes­sor of mar­ket­ing at the Kel­logg School of Man­age­ment, and Sean Blair, at George­town Uni­ver­si­ty, show that know­ing that a com­pa­ny has behaved eth­i­cal­ly can cause cus­tomers to per­ceive that company's prod­ucts as per­form­ing bet­ter. They call this effect a ​"benev­o­lent halo."
"This is a dif­fer­ent sto­ry than just say­ing, ​'Peo­ple like the com­pa­ny more,'" says Chernev. ​"The increase in pos­i­tive per­cep­tion is not based on adver­tis­ing. Con­sumers actu­al­ly expe­ri­ence the prod­uct in a dif­fer­ent way."
Add Insight
to your inbox.
We'll send you one email a week with content you actually want to read, curated by the Insight team.
Per­cep­tion Is Reality
The researchers devised a series of exper­i­ments in which con­sumers were able to sam­ple a prod­uct — such as tast­ing wine or inspect­ing the results of a teeth whiten­er — and eval­u­ate its per­for­mance. For some par­tic­i­pants, the prod­ucts were pre­sent­ed with writ­ten descrip­tions of the company's social­ly respon­si­ble behav­ior: that the com­pa­ny behind the teeth whiten­er had made siz­able dona­tions to UNICEF, for instance, or that the win­ery donat­ed part of each sale to the Amer­i­can Heart Association.
"The increase in pos­i­tive per­cep­tion is not based on adver­tis­ing. Con­sumers actu­al­ly expe­ri­ence the prod­uct in a dif­fer­ent way."
Impor­tant­ly, the char­i­ta­ble giv­ing was entire­ly unre­lat­ed to the company's core busi­ness: there is no link, after all, between teeth whiten­ing and children's emer­gency relief. Nonethe­less, par­tic­i­pants who were told about the giv­ing con­sis­tent­ly rat­ed prod­uct per­for­mance high­er than those who did not learn of any giv­ing — mean­ing they actu­al­ly expe­ri­enced the wine and teeth whiten­ers as being of a high­er quality.
Earn­ing a Halo
Not all cor­po­rate giv­ing is reward­ed with a benev­o­lent halo.
For one, cus­tomers need to have some uncer­tain­ty about a product's per­for­mance — oth­er­wise there is no need to infer infor­ma­tion about the prod­uct based on the company's social respon­si­bil­i­ty. In the wine-drink­ing exper­i­ment, par­tic­i­pants who con­sid­ered them­selves to be inex­pe­ri­enced wine drinkers were more affect­ed by the char­i­ta­ble dona­tions than those who had more self-report­ed expertise.
More­over, con­sumers must believe the company's motives to be authen­ti­cal­ly benev­o­lent, rather than mere­ly self-inter­est­ed. In anoth­er study, par­tic­i­pants judg­ing a char­i­ta­ble company's hair-loss treat­ment per­ceived those treat­ments as more effec­tive only when they believed the dona­tions were moti­vat­ed by benev­o­lence rather than self-interest.
Final­ly, the halo effect is strongest for cus­tomers who believe that cor­po­ra­tions have an oblig­a­tion to act char­i­ta­bly. Par­tic­i­pants who felt it was ​"very impor­tant" for ​"com­pa­nies to give back to soci­ety" were more impressed by prod­ucts from char­i­ta­ble com­pa­nies than those who said cor­po­rate giv­ing was less impor­tant to them personally.
A Bet­ter Way to Sell Snake Oil?
The results sug­gest that cor­po­rate gen­eros­i­ty can gen­er­ate good­will about a company's ​"char­ac­ter" that spills over into pos­i­tive con­sumer expe­ri­ences with its prod­ucts. This increase in pos­i­tive per­cep­tion is all in the eye of the behold­er, Chernev acknowl­edges, ​"but in real­i­ty, peo­ple tend to buy based on these perceptions."
Of course, the irony is that the ben­e­fits to the bot­tom line that come with cor­po­rate social respon­si­bil­i­ty only come when com­pa­nies appear to not be moti­vat­ed by their bot­tom line. So should cus­tomers wor­ry that com­pa­nies will mis­rep­re­sent their moti­va­tions in an effort to manip­u­late prod­uct perceptions?
"The alter­na­tive would be to try to influ­ence con­sumer behav­ior with adver­tise­ments, with­out invest­ing in any social­ly respon­si­ble activ­i­ties," Chernev explains.
How to Max­i­mize the Halo
Chernev's work sug­gests sev­er­al prac­ti­cal ways for com­pa­nies to ben­e­fit from a benev­o­lent halo.
First, the com­pa­ny must actu­al­ly be benev­o­lent. One of Chernev's exper­i­ments describes a tech­nol­o­gy com­pa­ny that would donate a per­cent­age of its prof­its to char­i­ty ​"even in the tough­est eco­nom­ic times because giv­ing back to soci­ety was aligned with their val­ues." The com­pa­ny was fic­ti­tious, but Chernev's results sug­gest that such behav­ior, if imple­ment­ed in the real world, would act as a pow­er­ful sig­nal about the sin­cer­i­ty of the company's proso­cial activities.
Sec­ond, com­mu­ni­cat­ing these proso­cial motives to con­sumers through adver­tis­ing (which is per­ceived as self-inter­est­ed) might be less pro­duc­tive com­pared with third-par­ty chan­nels like social media and press releas­es. In oth­er words, a com­pa­ny may do well to let oth­ers report on its char­i­ta­ble giv­ing instead of seek­ing to toot its own horn.
Third, prod­ucts with an uncer­tain val­ue propo­si­tion — includ­ing con­sumer-lifestyle prod­ucts, like gad­gets, shoes, or cloth­ing acces­sories — can gain the biggest boost from cor­po­rate do-good­erism. The same goes for fun­gi­ble util­i­ty items, like house­wares, since con­sumers may not have strong loy­al­ty to any par­tic­u­lar brand.
For a com­pa­ny with social respon­si­bil­i­ty as part of its mis­sion, like Ben & Jerry's, Chernev says the research argues that proso­cial activ­i­ty could be even more effec­tive than pre­vi­ous­ly believed, as it also boosts cus­tomer sat­is­fac­tion with their ice cream.
And for com­pa­nies with a more neu­tral atti­tude toward ​"doing good," Chernev says, ​"this research gives them more rea­sons to invest in proso­cial behav­ior, because it is in their self-interest."
Featured Faculty
About the Writer
John Pavlus is a writer and filmmaker focusing on science, technology, and design topics. He lives in Portland, Oregon.
About the Research
Chernev, Alexander, and Sean Blair. "Doing Well by Doing Good: The Benevolent Halo of Corporate Social Responsibility." Journal of Consumer Research. 41(6): 1412–1425.
Suggested For You
Most Popular
Most Popular Podcasts