Is Economic Growth a Question of Culture?
Is Eco­nom­ic Growth a Ques­tion of Culture?
A decade of research shows how cul­ture seeps into eco­nom­ic decisions.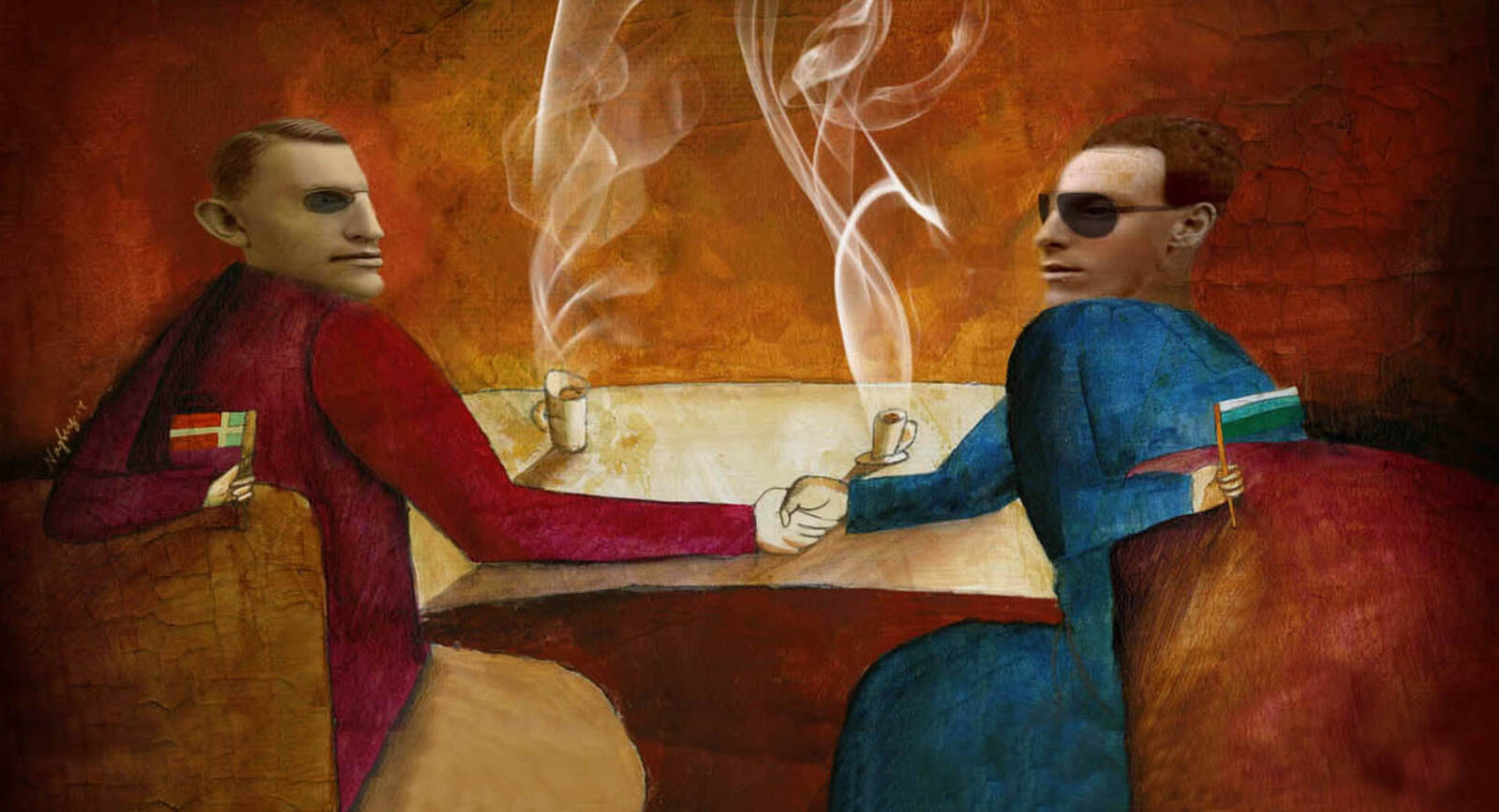 Yevgenia Nayberg
As some coun­tries' economies churn steadi­ly — even briskly — over time, oth­ers' remain stag­nant. While stan­dard eco­nom­ic vari­ables, such as pro­duc­tiv­i­ty and avail­abil­i­ty of cap­i­tal, explain inter­na­tion­al dif­fer­ences, some of these dif­fer­ences remain unex­plained. Gaps in eco­nom­ic devel­op­ment often seem to fall along cul­tur­al lines. ​"Cul­ture and eco­nom­ics, they move togeth­er," says Pao­la Sapien­za, a pro­fes­sor of finance at the Kel­logg School. But does cul­ture fol­low eco­nom­ic devel­op­ment or is eco­nom­ic devel­op­ment direct­ed by culture?
Add Insight
to your inbox.
We'll send you one email a week with content you actually want to read, curated by the Insight team.
The debate goes all the way back to Karl Marx, who held the view that every­thing is dri­ven by eco­nom­ics. Marx deemed reli­gion, for instance, the opi­um of the peo­ple — imposed by, and to the ben­e­fit of, the eco­nom­ic estab­lish­ment. But anoth­er view, held by Max Weber, gave cul­ture more cre­dence. Parts of Europe devel­oped ear­li­er and stronger than oth­ers, he posit­ed, due to the influ­ence of Protes­tant work ethics.
Who is right? Econ­o­mists have tra­di­tion­al­ly tak­en the Marx­i­an view, says Sapien­za — at least until recently.
A Trip to Europe
Until just a few gen­er­a­tions ago, liv­ing arrange­ments were very sim­i­lar in North­ern and South­ern Europe. But more recent­ly, the dif­fer­ences have become stark­er. In South­ern Europe, chil­dren tend to live at home much longer than in North­ern Europe. ​"This has enor­mous con­se­quences," explains Sapien­za. ​"If they live at home until they're forty, they have few­er chil­dren. We know that demo­graph­ic growth is very, very impor­tant for eco­nom­ic growth, and so the ques­tion is: Why is there this big difference?"
The eco­nom­ic expla­na­tion, of course, is that, with unem­ploy­ment high and real estate expen­sive in South­ern Europe, kids sim­ply can­not afford to move out. This is a ​"per­fect­ly rea­son­able" expla­na­tion, says Sapien­za, and proves that the eco­nom­ics ​"explains" cul­tur­al norms.
"Trust is quin­tes­sen­tial­ly one of the most impor­tant ingre­di­ents in eco­nom­ic transactions."
But there's anoth­er pos­si­bil­i­ty. The sex­u­al rev­o­lu­tion, which crashed through the West­ern world begin­ning in the 1960s, has changed the mores around chil­dren liv­ing at home. Before, the desire to enter into a seri­ous rela­tion­ship may have prod­ded more peo­ple out of the house at an ear­ly age. Now, it is no longer nec­es­sary to expe­ri­ence inde­pen­dence out­side your par­ents' home. Today, with no such pres­sure — as well as a free place to stay, com­plete with home-cooked meals and laun­dry ser­vice, at least in the nur­tur­ing fam­i­ly envi­ron­ment of South­ern Europe — one won­ders whether adult chil­dren even have a rea­son to leave the house. Cul­ture may well be dri­ving eco­nom­ic growth.
Tak­ing Cul­ture with You
Suc­cess­ful­ly dis­en­tan­gling the rela­tion­ship between cul­ture and eco­nom­ics has rest­ed on one key truth: vis­i­tors to a new coun­try inevitably bring some of their old cul­tur­al tra­di­tions with them. In 1997, for instance, a man and a woman left their 14-month-old child unat­tend­ed out­side of a New York City bar­beque joint while they ate. Passers­by not­ed the tod­dler cry­ing in her stroller and called the police, who charged the par­ents with endan­ger­ing the wel­fare of a child. The arrest raised a ruckus in the par­ents' native Den­mark, where it is com­mon­place to leave babies out­side of restau­rants and shops while par­ents go about their business.
Oth­er habits — includ­ing more eco­nom­i­cal­ly rel­e­vant ones, like a will­ing­ness to con­form to rules — also trav­el across bor­ders. In 2006, econ­o­mist Ray Fis­man tal­lied up the park­ing tick­ets giv­en to Unit­ed Nations diplo­mats. Because diplo­mats have diplo­mat­ic immu­ni­ty and need nev­er pay up, the only rea­son they would not park ille­gal­ly is if they have inter­nal­ized a cul­tur­al norm that tells them not to break the rules. Indeed, Fis­man found that diplo­mats from high­ly cor­rupt coun­tries tend­ed to rack up more tick­ets than those from nations with low lev­els of corruption.
Econ­o­mists have been able to exploit our ten­den­cy to take our cul­ture with us by study­ing the eco­nom­ic habits of immi­grants and their fam­i­lies. ​"In a way, with immi­grants, you almost have a nat­ur­al exper­i­ment," says Sapien­za. ​"It's not per­fect because, of course, immi­grants self-select. But you have these peo­ple who are away from their environment."
And just how they behave in a new coun­try offers strong evi­dence that cul­ture is often inde­pen­dent from eco­nom­ic con­text and may, in turn, play a causal role in shap­ing eco­nom­ics. Immi­grants seem to keep the sav­ings habits they've acquired in their old coun­tries, for instance. And even their chil­dren tend to make labor and fer­til­i­ty choic­es that mir­ror those of chil­dren born in the coun­try of ori­gin. Indeed, in the study of liv­ing arrange­ments, UCLA econ­o­mist Pao­la Giu­liano showed that the sons and daugh­ters of first-gen­er­a­tion immi­grants to the Unit­ed States behave accord­ing to the geo­graph­i­cal divide in Europe: south­ern Euro­pean immi­grants more fre­quent­ly live at home with their par­ents, while those from north­ern Europe tend to live inde­pen­dent­ly ear­ly on. This is remark­able because these immi­grants are placed in the same eco­nom­ic con­text, yet their cul­ture affects their decisions.
Trust and Economics
Acknowl­edg­ing that cul­tur­al atti­tudes can influ­ence eco­nom­ic deci­sions rais­es a ques­tion: Which atti­tudes? Over the years, the bulk of Sapienza's own research has focused on trust. ​"My view has always been that trust is one vari­able that is high­ly cul­tur­al, often trans­mit­ted from par­ents to kids," she says. ​"Think about the rec­om­men­da­tion in some cul­tures not to trust any­body." Grow­ing up in an envi­ron­ment where you are told not to talk to strangers or rely on gov­ern­ment offi­cials sets you up to expect the worst from every encounter with a per­son or the state — and behave accordingly.
The eco­nom­ic impli­ca­tions of low trust can be vast. ​"Trust is quin­tes­sen­tial­ly one of the most impor­tant ingre­di­ents in eco­nom­ic trans­ac­tions," says Sapien­za. Sure, we can — and should — write con­tracts. But no con­tract will cov­er every con­tin­gency. ​"You have to trust the per­son you're nego­ti­at­ing with that even­tu­al­ly we're going to work togeth­er to work things out," says Sapien­za. ​"While trust is fun­da­men­tal to all trade and invest­ment, it is par­tic­u­lar­ly impor­tant in finan­cial mar­kets, where peo­ple part with their mon­ey in exchange for promises."
Trust lev­els dif­fer wild­ly from one coun­try to anoth­er. In Brazil, it is very low; in North­ern Euro­pean coun­tries, it is much high­er. And trust is strik­ing­ly per­sis­tent. This is part­ly just a com­mon sense reac­tion to real­i­ty: if you live in a low-trust soci­ety, ​"it's opti­mal for you to teach your kids not to trust," says Sapien­za, ​"because if you're the only one trust­ing, you're very like­ly going to be sur­prised by some­body tak­ing advan­tage of you. In a cul­ture where every­one is trust­ing, and there is there­fore more coop­er­a­tive behav­ior, the opti­mal thing to teach your kids is indeed to trust oth­ers. This trans­mis­sion of cul­tur­al atti­tudes may have big eco­nom­ic consequences."
Liv­ing with­out Trust
Sapien­za has found that peo­ple tend to write few­er finan­cial con­tracts in areas where the lev­el of trust is low­er. This unsur­pris­ing­ly has a neg­a­tive impact on eco­nom­ic devel­op­ment. ​"You have worse finan­cial allo­ca­tion," says Sapien­za, ​"because the quin­tes­sen­tial mech­a­nism of a free mar­ket econ­o­my is that peo­ple who have the cap­i­tal are not nec­es­sar­i­ly the peo­ple who have the ideas. In order to put cap­i­tal to use, you real­ly have to make it circulate."
Anoth­er of Sapienza's stud­ies finds that just how much cit­i­zens of one Euro­pean coun­try trust those of anoth­er impacts their will­ing­ness to engage in mutu­al­ly ben­e­fi­cial finan­cial trans­ac­tions. Coun­tries that do not share a nation­al reli­gion, have a his­to­ry of war with each oth­er, have few­er genet­ic sim­i­lar­i­ties, or even sim­ply pos­sess neg­a­tive stereo­types about each oth­er are less like­ly to trade and invest in each other.
But trust does not just dif­fer from nation to nation. In yet anoth­er study, Sapien­za and her col­leagues find that even with­in a state, indi­vid­u­als who are more trust­ing have riski­er stock mar­ket port­fo­lios: ​"Peo­ple who believe that oth­ers can be trust­ed in gen­er­al … end up putting their mon­ey to work," says Sapien­za, ​"invest­ing in the stock mar­ket more, invest­ing in riski­er assets, and even­tu­al­ly hav­ing a high­er return."
Per­sis­tence of Growth
Sapien­za believes that rel­a­tive­ly high lev­els of trust in North­ern Italy — and else­where in the world — stem from his­tor­i­cal prece­dent. Back in the Mid­dle Ages, many cities in North­ern Italy, unlike many sim­i­lar ones in the South, ​"rebelled against the Emper­or and became free city states," she explains. The under­tak­ing required enor­mous coop­er­a­tion among var­i­ous par­ties and result­ed in a much more open, trans­par­ent style of gov­ern­ment. ​"What we claim in [a recent] paper is that this expe­ri­ence has led peo­ple to trust that they can change things," says Sapien­za. Today, Ital­ian cities that became free city states over 800 years ago have more non­prof­it orga­ni­za­tions, engage in more blood and organ dona­tion, and raise chil­dren less like­ly to cheat on their nation­al exams than those that did not. That his­to­ry begets cul­ture is not an entire­ly new idea. Nathan Nunn, a pro­fes­sor at Har­vard Uni­ver­si­ty, finds that even today low lev­els of trust in some regions of Africa align close­ly with regions where slave trade caused the most damage.
But per­haps his­to­ry need not be des­tiny. Sapien­za and oth­er econ­o­mists would like to find ways to increase trust lev­els in regions where they have his­tor­i­cal­ly been low — par­tic­u­lar­ly in places where bar­ri­ers to eco­nom­ic devel­op­ment, such as legal­ized dis­crim­i­na­tion, have since been removed. But change will not come eas­i­ly. ​"Where do we start?" Sapien­za asks. ​"If you don't trust any­body, you will not engage in trans­ac­tions and, of course, the sys­tem will not reward you, even when insti­tu­tion­al changes have removed dis­crim­i­na­tion. More impor­tant­ly, if you don't trust, you're going to teach your kids not to trust, which cre­ates a cycle that is dif­fi­cult to escape."
Featured Faculty
About the Writer
Jessica Love is the staff science writer and editor at Kellogg Insight.
Suggested For You
Most Popular
Most Popular Podcasts