How a Restaurant Chain Keeps Its Independent Spirit
At Lettuce Entertain You Enterprises, growth begins with a learning mindset.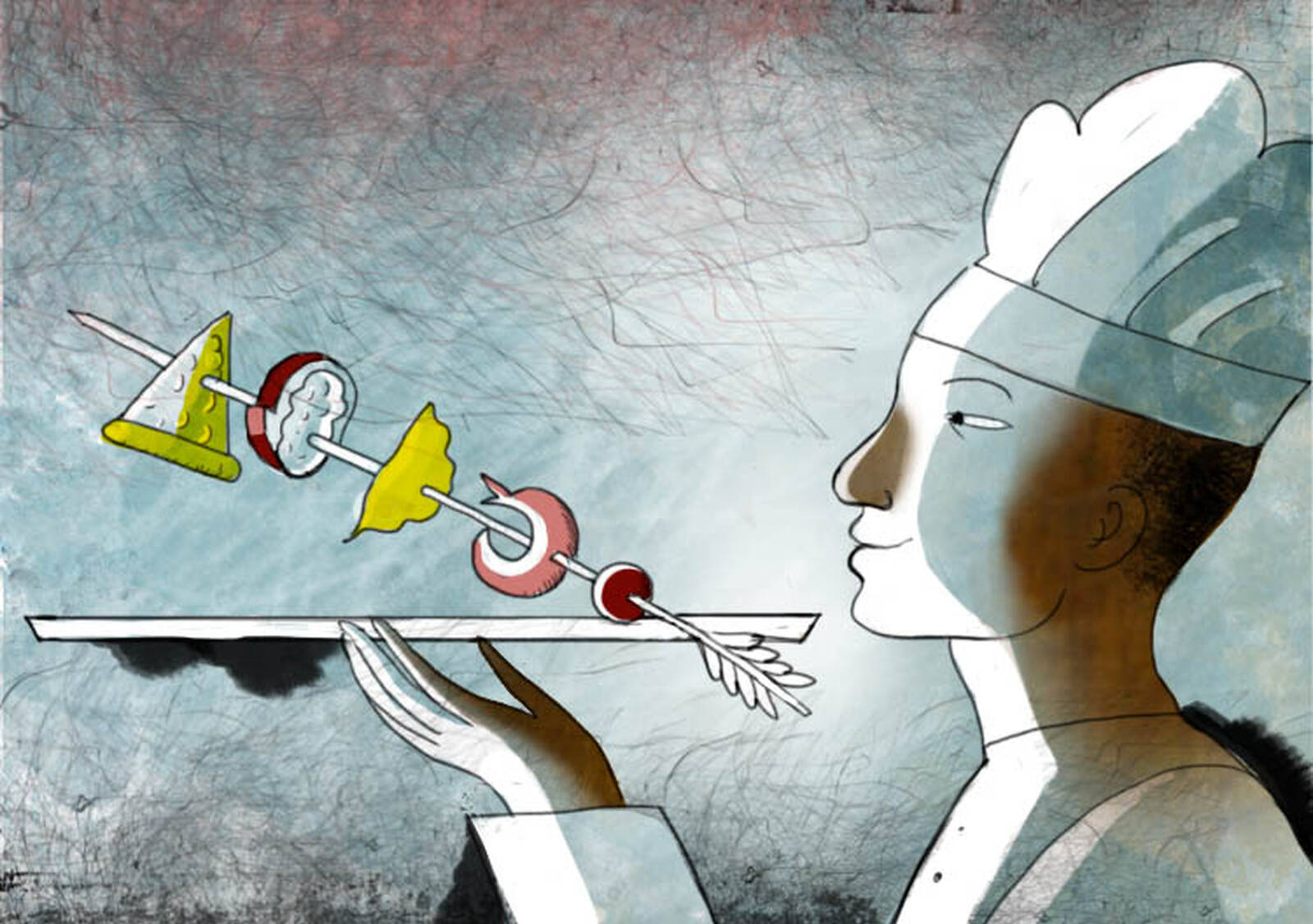 Yevgenia Nayberg
Tuck into a dozen Blue Point oysters at Shaw's Crab House, revel in the steak frites at Mon Ami Gabi, and dive into a ultrathin Sardinian pizza at Frankie's 5th Floor Pizzeria, and you might not guess the three restaurants are owned by the same company. But if you peek behind the curtain, you will find that Lettuce Entertain You Enterprises (Lettuce) has structured its operations, and its growth strategy, on the unique appeal of its various restaurants.
Most restaurant companies looking for aggressive growth will optimize a concept and either expand as a chain or franchise that successful concept. Lettuce has taken a different approach. What began 44 years ago as a single casual-dining restaurant, R.J. Grunts, has grown into a network of more than fifty distinct dining concepts, including fast-casual food courts, traditional bistros, and several variations on the steakhouse, noodle bar, and tapas restaurants.
"The company's value proposition is about creating distinctive customer experiences, and that means always coming up with new restaurant ideas," says William Ocasio, professor of management and organizations at the Kellogg School.
Ocasio attributes the company's success to its organizational architecture, which combines centralized management with a diverse network of partners, allowing the company to experiment without disrupting its core business. "It's an attitude of constant reinvention," Ocasio says, "and it works as a growth strategy. One of the keys to growth is having a strong learning mindset."
Balancing Control and Creativity
This learning mindset is evidenced in the parts of the business operation Lettuce chooses to centralize versus what it chooses to individualize. Lettuce maintains a centralized management infrastructure to handle staffing and administrative concerns. But ownership for each Lettuce restaurant is shared between individual restaurant partners—who are rewarded on a profit-sharing basis—and the parent organization. This partnership structure, combined with regular information sharing, allows for an effective balance between competition and cooperation. It also allows the parent organization to establish common standards while at the same time working with restaurant partners to bring creative ideas to life.
"When you're creating entirely new concepts, market research doesn't always work very well."
"The leadership gives a lot of autonomy to the individual restaurants while keeping the human resources aspect centralized," Ocasio says. "So while customers may not recognize the umbrella organization, employees certainly think of themselves as working for Lettuce Entertain You." And the partners feel connected, too. Being part of an organization that values creativity also makes individual partners less likely to take their ideas for restaurant concepts elsewhere.
Applying the Learning Mindset
Lettuce's core strength is the way it learns from past experience. The company has what Ocasio calls a high "absorptive capacity," which means it absorbs knowledge about everything from the optimal design for a kitchen to a workable marketing strategy and applies it in a systematic way. "The organizational structure acts as a kind of incubator, in that it helps make creative restaurant ideas more viable—and it allows the organization to build off each new concept."
At leadership meetings, restaurant managers share what works and decide on best practices. Each restaurant may have its own style, but every manager faces similar challenges that the organization can help address. "When you're creating entirely new concepts, market research doesn't always work very well," Ocasio says. "It's not all about planning—it's about designing an organization that can experiment and learn."
The result is that everyone—both individual restaurant managers and Lettuce's executive team—becomes more adept at responding to the dynamics of the restaurant industry and at observing customer trends as they reveal themselves throughout the network. R.J. Grunts, for example, proved the popularity of salad bars—now a staple of full service and casual dining restaurants. And foodlife, which offers American and international dishes from several kiosks in Chicago's Water Tower Place, tapped into the "fast casual" trend and the demand for more unique flavors from different regions of the world (the menu ranges from classic cafeteria food to stir-fry with Thai BBQ sauce).
Ocasio says that Lettuce did not just tap into existing trends—it also has a knack for anticipating unmet customer needs. Consider the example of mini desserts. When Richard Melman, Lettuce's founder, noticed customers frequently sharing single slices of cake, he saw an opportunity to experiment with a new offering—hence the spread of mini pies, brownies, and gelatos across the network of restaurants. In 2008, the company addressed another unmet customer need when Melman's three children opened Hub 51, including an after-hours place that served a growing nightlife scene in Chicago.
Of course, the learning process can also teach a restaurant what customers do not want. Lettuce opened Café Ba-Ba-Reeba in the 1980s with the intention of offering diners a very authentic Spanish tapas experience. But customers, shocked by giant pigs' feet and other unfamiliar dishes, decided the concept was ultimately a little too authentic. The restaurant dialed back the authenticity and thrived. Another failure-turned-success is Hat Dance, surely one of the few attempts at Mexican-Japanese. When the initial concept failed to take off, the company changed its approach, first focusing on Mexican and then, in the 1990s, repositioning the restaurant as Nacional 27, Lettuce's premier Latin restaurant, serving dishes from multiple Latin American countries.
Whether it is striking an appropriate balance between the traditional and the modern, or anticipating exactly when to switch out items on a given menu, Lettuce knows that each of its restaurants will undergo significant change depending on customer response. "They believe strongly that the customer is always right—not the chef. If the customer likes it, it matters less what the chef thinks," Ocasio says. Even thirty days after opening a restaurant, the company is prepared to readjust.
"Part of having a growth mindset means having a learning mindset," Ocasio says. "It's not about getting it right the first time. It's about learning from your mistakes and then moving ahead quickly, and being resilient about it."
Staying Nimble
Lettuce has grown at a time of rapid change in the restaurant industry. In addition to the rise of "fast casual" chains and the demand for healthy, exciting dishes, the last few decades have also witnessed a trend toward restaurant dining as the main event of an evening out. Lettuce has positioned itself to respond to this shift.
"There will always be change," Ocasio says. "It's this combination of a learning mindset with this core commitment"—to offer unique dining experiences—"that has helped the company grow."
In a measure of how much the leadership values the uniqueness of their restaurants, Lettuce decided not to build a single supply chain for its restaurants, relying instead on a diverse group of suppliers from restaurant to restaurant. "They don't want the steaks in Wildfire to taste like the steaks in RPM Steak," Ocasio says. "It's a customization business, not a duplication business."
For Lettuce, growth means being able to use its network of partnerships to support new ideas. As evidence, Ocasio points to the decision to sell off Corner Bakery and Maggiano's, two of their best-known chains. "Basically, they made a choice that their main growth path is developing new concepts."
"With that organizational architecture in place," Ocasio says, "they are free to experiment. And as long as they keep learning [from their customers], they will keep growing."
Featured Faculty
About the Writer
Drew Calvert is a freelance writer based in Iowa City.
Add Insight to your inbox.