Poach Our Employees, Please
Poach Our Employ­ees, Please
How hir­ing an employ­ee from a relat­ed com­pa­ny can direct­ly ben­e­fit both the poach­er and the poached.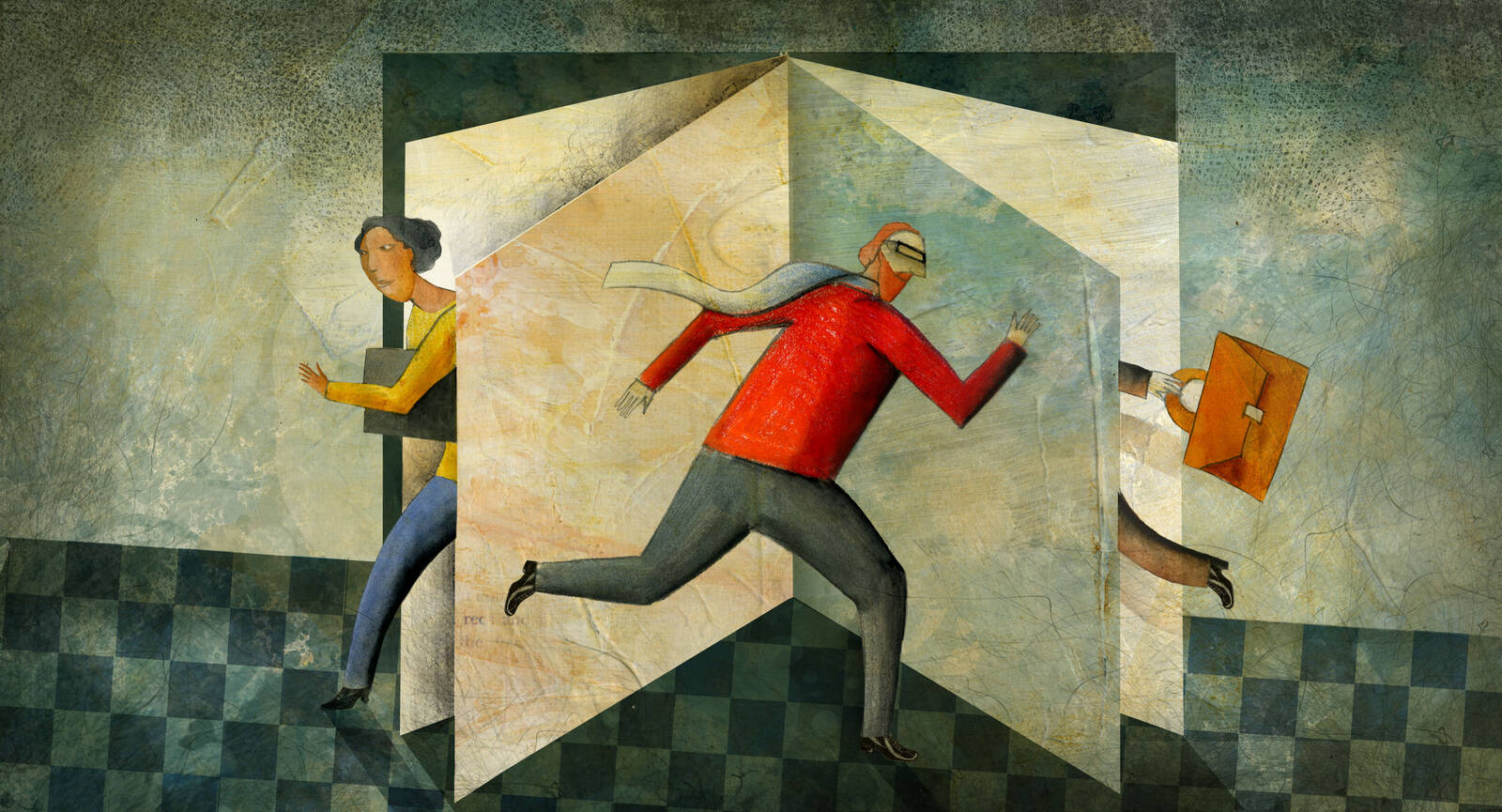 Yevgenia Nayberg
Poach­ing employ­ees has nev­er been eas­i­er or more attrac­tive. Web­sites like Career­Builder and LinkedIn make it sim­ple to scout tal­ent. Rather than just look­ing for an employ­ee among those who apply for a job, firms can now use these sites to search among those who are the best fit for the job.
The com­pa­nies on the oth­er end of the poach­ing, of course, lose knowl­edge and skills when their employ­ees leave. More­over, replac­ing employ­ees cre­ates labor com­pe­ti­tion and dri­ves wages high­er, and the fear of los­ing employ­ees forces a firm to plan ahead for some­thing that may or may not hap­pen. So some com­pa­nies have respond­ed with aggres­sive, or even ille­gal, antipoach­ing strate­gies. In April 2015, a judge approved a $415 mil­lion set­tle­ment between sev­er­al tech­nol­o­gy com­pa­nies — includ­ing Apple and Google — and the approx­i­mate­ly 64,000 tech employ­ees they con­spired not to hire from each other.
Add Insight
to your inbox.
We'll send you one email a week with content you actually want to read, curated by the Insight team.
But recent research sug­gests that, under some cir­cum­stances, poach­ing can ben­e­fit both sides of the equa­tion, the poach­er and the poached. Poach­ing can aid the trans­fer of knowl­edge, with turnover spread­ing best prac­tices through­out an indus­try. Poach­ing also lets firms share the bur­den of main­tain­ing a high­ly skilled work­force — mak­ing it eas­i­er for grow­ing firms to cheap­ly acquire work­ers and stag­nant firms to shed them. New research sug­gests yet anoth­er ben­e­fit: when a less pro­duc­tive firm in the sup­ply chain poach­es from a more pro­duc­tive one, even the firm los­ing employ­ees can expe­ri­ence boosts in pro­duc­tiv­i­ty and sales revenue.
Poach­ing allows firms to real­lo­cate resources even with­out a for­mal agreement.
"If the ben­e­fit is high in terms of [an increase in] the num­ber of prod­ucts that can be sold, or the qual­i­ty of prod­ucts or the price that can be charged, then there's a much greater incen­tive for the firm to let their work­ers go, and allow them to be poached," says Evan Bar­low, a Ph.D. can­di­date in oper­a­tions man­age­ment at Kellogg.
Find­ing Balance
Most research into poach­ing focus­es on how it affects com­pa­nies that com­pete with each oth­er. But Bar­low and his coau­thors, Gad Allon and Achal Bas­sam­boo, pro­fes­sors of man­age­r­i­al eco­nom­ics and deci­sion sci­ences at Kel­logg, focus instead on com­pa­nies that are part of a sup­ply chain. With­in many sup­ply chains, there is a ​"bot­tle­neck," or com­pa­ny that restricts the pro­duc­tion of the over­all chain because of its lim­it­ed resources. In those cas­es, says Allon, poach­ing ​"allows firms to real­lo­cate resources even with­out a for­mal agreement."
The researchers devised a mod­el in which a sup­pli­er and a man­u­fac­tur­er in the same sup­ply chain com­pete with each oth­er for employ­ees while attempt­ing to max­i­mize prof­its. Firms must bal­ance the rev­enues gained from greater sup­ply-chain pro­duc­tiv­i­ty with the costs of find­ing, recruit­ing, and hir­ing new employ­ees. It is a chal­leng­ing bal­ance to strike, because while the more pro­duc­tive firm is tempt­ed to poach employ­ees from the less pro­duc­tive firm, doing so erodes the less pro­duc­tive company's capac­i­ty even more, ampli­fies the bot­tle­neck, and low­ers both firms' rev­enues from sales.
But poach­ing in reverse — when the less pro­duc­tive firm lures employ­ees away from the more pro­duc­tive one — has the oppo­site effect. It helps the bot­tle­neck increase its pro­duc­tion capa­bil­i­ties, thus increas­ing the sup­ply chain's poten­tial over­all out­put and increas­ing both firms' sales revenue.
One Word: Plastics
For an exam­ple of sym­bi­ot­ic poach­ing in action, con­sid­er the shale oil and gas industry.
The indus­try has grown dra­mat­i­cal­ly — Forbes puts it at 51 per­cent per year since 2007. This growth has had impor­tant con­se­quences for con­sumers, with the aver­age house­hold sav­ing some­where between $425 and $725 each year on ener­gy costs. The impact has also rever­ber­at­ed through­out the sup­ply chain. ​"The cus­tomers of the shale oil and gas indus­try are actu­al­ly expand­ing their oper­a­tions to try to han­dle the extra avail­abil­i­ty of nat­ur­al gas," Bar­low says.
Com­pa­nies that make plas­tics, for instance, depend on the pro­duc­tiv­i­ty of oil and gas com­pa­nies; the dra­mat­ic increase in pro­duc­tion has sharply dri­ven down their costs and increased their sup­ply of raw mate­ri­als. With the pro­duc­tive capac­i­ty of two indus­tries so tight­ly inter­twined, poach­ing can be a win – win. A plas­tic com­pa­ny whose employ­ees have been poached must replace the lost employ­ees — but the increas­es in pro­duc­tiv­i­ty and rev­enues almost imme­di­ate­ly out­weigh the costs of hir­ing new employees.
"Yes, they're los­ing work­ers. Yes, they're expe­ri­enc­ing some work­er short­ages," says Bar­low. ​"But at the same time, they've nev­er had a high­er avail­abil­i­ty of nat­ur­al gas. From that per­spec­tive, hav­ing their work­ers poached has been very beneficial."
By con­trast, for tech­nol­o­gy firms like Apple and Google and their sup­ply-chain part­ners, the costs of poach­ing out­weigh the ben­e­fits. There is lit­tle imme­di­ate pay­off; there is stiff com­pe­ti­tion for qual­i­fied high-tech engi­neers (a ​"war for tal­ent"); and the prof­it increas­es from greater pro­duc­tiv­i­ty are low com­pared with the upward pres­sure on wages and the costs of hir­ing and train­ing new employ­ees. As a result, tech firms go to great lengths to pre­vent poaching.
Think­ing Strate­gi­cal­ly about Poach­ing Employees
The research sug­gests that com­pa­nies that are con­nect­ed in a sup­ply chain can ben­e­fit from being part of a ​"man­u­fac­tur­ing hub" — a rel­a­tive­ly small geo­graph­ic area in which insti­tu­tions rep­re­sent­ing mul­ti­ple sec­tors (includ­ing gov­ern­ment, pri­vate indus­try, and acad­e­mia) col­lab­o­rate on research and prod­uct devel­op­ment. Just as such hubs facil­i­tate the free flow of ideas, they can also facil­i­tate poach­ing, as employ­ees do not need to relo­cate to switch employers.
The research also has impli­ca­tions for pol­i­cy mak­ers who hope to reduce unem­ploy­ment. In an effort to spur job cre­ation, the stim­u­lus pack­age passed by Con­gress in response to the Great Reces­sion, for exam­ple, includ­ed funds to reim­burse com­pa­nies for hir­ing employ­ees But in actu­al­i­ty, only 42 per­cent of employ­ees hired by com­pa­nies that received stim­u­lus funds were unem­ployed at the time — sug­gest­ing that instead com­pa­nies were reim­bursed for poaching.
Giv­en that real­i­ty, pol­i­cy mak­ers who hope to stim­u­late the econ­o­my could devise incen­tives tar­get­ed at the com­pa­nies that have the biggest poten­tial effect on the broad­er econ­o­my: bot­tle­neck firms. ​"If [pol­i­cy mak­ers] can tar­get those firms in a smart way," Bar­low says, ​"then all of the oth­er firms have an incen­tive to hire work­ers as well. So the gov­ern­ment could actu­al­ly make an invest­ment in reim­burs­ing hir­ing costs for one firm and ampli­fy the effect on hir­ing from that sin­gle invest­ment. That's the ben­e­fit of tar­get­ing the bot­tle­neck firms."
Featured Faculty
About the Writer
Theo Anderson is a writer and editor who lives in Chicago.
About the Research
Barlow, Evan, Gad Allon, and Achal Bassamboo. 2015. "Poaching Workers in a Supply Chain: Enemy from Within?" Working paper.
Suggested For You
Most Popular
Most Popular Podcasts