I (Don't) Feel Your Pain
Hav­ing been there does not always increase empathy.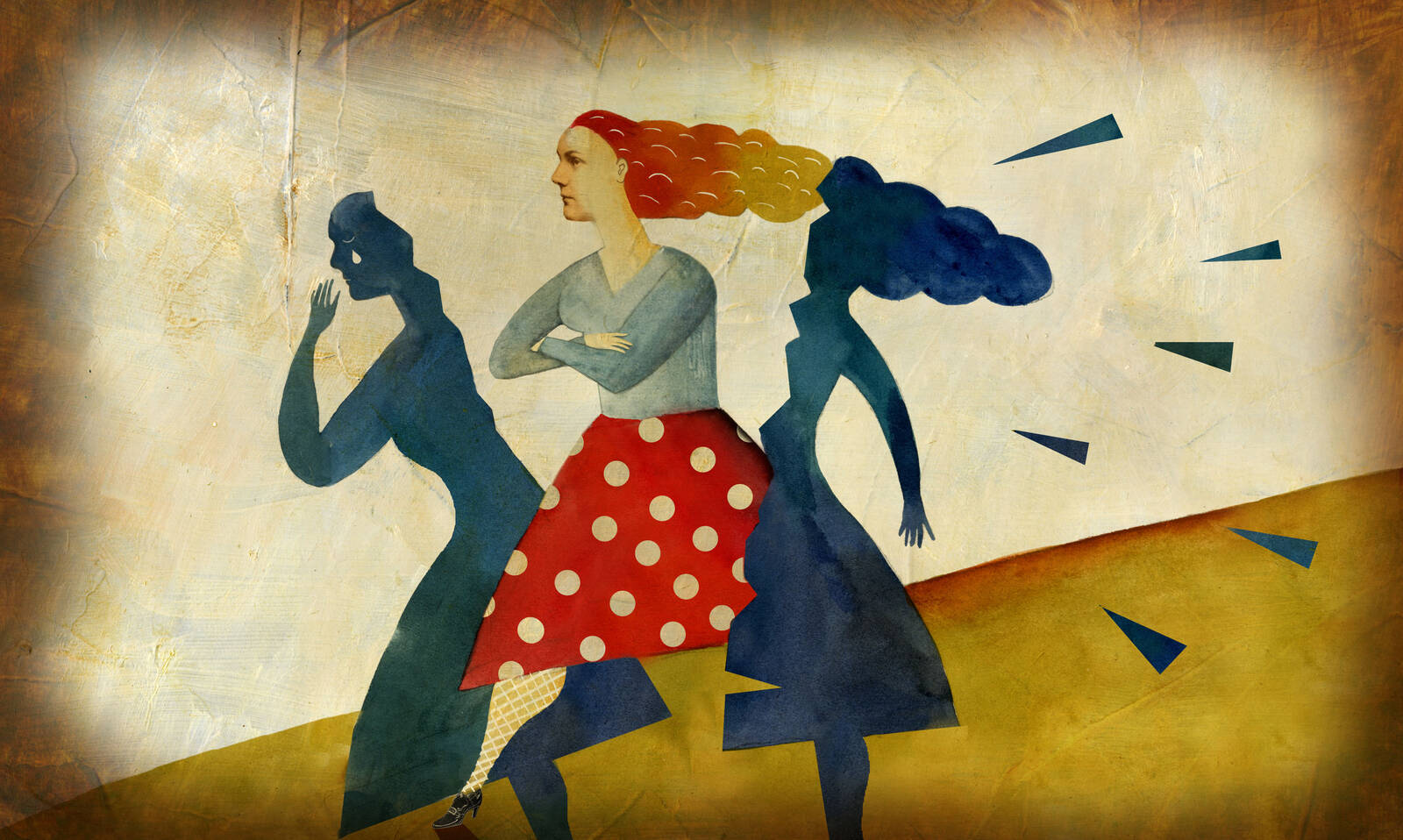 Yevgenia Nayberg
Let's say you are going through a dif­fi­cult divorce that is hurt­ing your abil­i­ty to focus at work. You know your boss endured her own dif­fi­cult divorce sev­er­al years ago. So you con­fide in her, expect­ing both empa­thy and advice. After all, she has been in your shoes. Good think­ing, right?
Add Insight
to your inbox.
We'll send you one email a week with content you actually want to read, curated by the Insight team.
No. It turns out she is exact­ly the wrong per­son to go to for compassion.
Peo­ple who endured a hard­ship are less like­ly to show com­pas­sion for some­one strug­gling with that same hard­ship, com­pared with peo­ple with no expe­ri­ence in that par­tic­u­lar sit­u­a­tion, accord­ing to new research from the Kel­logg School. And yet the research shows we tend to assume just the oppo­site, seek­ing com­fort from peo­ple who are unlike­ly to offer it.
This has impli­ca­tions for lead­ers who are sought out for advice, for the advice-seek­ers them­selves, and for train­ing pro­grams that try to cre­ate empa­thet­ic workplaces.
"We often just trust that our emo­tion­al reac­tions will guide how we should respond. This work sug­gests that … we may be cal­lous." —Loran Nordgren
"There are all these empa­thy train­ing pro­grams being offered that rely on the notion that to under­stand some­one, you need to walk a mile in their shoes," says Rachel Rut­tan, a Kel­logg School doc­tor­al stu­dent. ​"But in order to train and fos­ter empa­thy, we real­ly need to under­stand that the dynam­ics of it are com­pli­cat­ed. And maybe your intu­ition about it is incorrect."
Empa­thy in the Workplace
The research by Rut­tan, Loran Nord­gren, an asso­ciate pro­fes­sor of man­age­ment and orga­ni­za­tions at Kel­logg, and Mary-Hunter McDon­nell of the Whar­ton School at the Uni­ver­si­ty of Penn­syl­va­nia grew out of pre­vi­ous work by Nord­gren explor­ing ​"empa­thy gaps." These gaps refer to the dif­fi­cul­ty peo­ple have recall­ing emo­tion­al dis­tress once an expe­ri­ence is over. What, he won­dered, are the con­se­quences of these empa­thy gaps in terms of how much com­pas­sion some­one is will­ing to give anoth­er per­son endur­ing the same distress?
To find out, the researchers designed a series of exper­i­ments that gauged people's com­pas­sion for others.
In one exper­i­ment, they asked par­tic­i­pants in a polar plunge — an out­door swim in frigid tem­per­a­tures — to vol­un­teer as research sub­jects. The par­tic­i­pants were approached before their swim. Those who were will­ing to vol­un­teer were divid­ed into two groups — they either took a quick ques­tion­naire before their swim or with­in a week after plunging.
Par­tic­i­pants in both groups read about a man named Pat, who like them had decid­ed to take a polar plunge. Yet, when it came time to run into the water, Pat balked and did not com­plete the plunge. The par­tic­i­pants then report­ed their lev­els of com­pas­sion and con­tempt toward Pat.
Those who com­plet­ed the ques­tion­naire after tak­ing the plunge were less like­ly to be com­pas­sion­ate toward Pat and more like­ly to feel con­tempt for him com­pared with par­tic­i­pants who com­plet­ed the study before their own plunge.
Anoth­er study looked at com­pas­sion in the con­text of unem­ploy­ment. More than 200 peo­ple who signed up online to be research par­tic­i­pants read a sto­ry about a man who is unable to find work and begins sell­ing drugs to earn mon­ey. The par­tic­i­pants then answered ques­tions about the lev­el of com­pas­sion they felt for this man.
Par­tic­i­pants who them­selves had pre­vi­ous­ly been unem­ployed were less like­ly to show com­pas­sion for the man than those who were either cur­rent­ly unem­ployed or had nev­er been unem­ployed. A third study, which looked at how peo­ple who had pre­vi­ous­ly been bul­lied felt toward some­one fail­ing to cope with bul­ly­ing, showed sim­i­lar results.
The researchers believe that the com­bi­na­tion of peo­ple for­get­ting how dif­fi­cult a sit­u­a­tion actu­al­ly was and know­ing that they them­selves man­aged to get past it makes it hard for peo­ple to offer empa­thy to those in the throes of their own difficulties.
A Quick Fadeaway
All of this runs counter to our intu­ition, which pre­sumes that some­one who has expe­ri­enced a hard­ship — be it freez­ing water or school­yard taunts — will be your advo­cate if you are strug­gling to endure it your­self. But empa­thy gaps form fast.
"It was sur­pris­ing to me how quick­ly you lose access to those mem­o­ries of your own emo­tion­al expe­ri­ence," Rut­tan says.
To get at this coun­ter­in­tu­itive aspect, the researchers built off their bul­ly­ing sce­nario. They asked par­tic­i­pants which teacher would be less like­ly to neg­a­tive­ly judge a vio­lent out­burst by a bul­lied teen: a teacher who had endured bul­ly­ing as a teenag­er or one who had nev­er been bullied.
Nine­ty-nine of the 112 par­tic­i­pants said the teacher who had endured bul­ly­ing would be more com­pas­sion­ate to the teen. The trend held true both among par­tic­i­pants who had them­selves been bul­lied and those who had not.
"Get Out­side Your Own Head"
These find­ings have clear impli­ca­tions for busi­ness lead­ers. Take the exam­ple of the boss whose employ­ee is seek­ing advice dur­ing a divorce.
"We often just trust that our emo­tion­al reac­tions will guide how we should respond," Nord­gren says. ​"This work sug­gests that, in a sit­u­a­tion like this where some­one is strug­gling to deal with a sit­u­a­tion that we got through ear­li­er, we may be callous."
His advice is to ​"get out­side your own head," mean­ing ask your­self how upset the per­son seems to be — not how upset you remem­ber being when you were in his shoes. Nord­gren calls it ​"a kind of per­spec­tive-tak­ing exercise."
As for the employ­ee who is seek­ing the advice, he would be wise to pause before imme­di­ate­ly seek­ing com­pas­sion from some­one who has had a sim­i­lar expe­ri­ence. He might, in fact, get a bet­ter reac­tion from some­one who has nev­er gone through the same ordeal.
Com­pa­nies, too, should take note. Train­ing pro­grams for fos­ter­ing empa­thy may be pred­i­cat­ed on the wrong notions. Men­tor­ship pro­grams, which often pair up peo­ple from sim­i­lar back­grounds or expe­ri­ences, may also need to be reevaluated.
Flip­ping the Switch
The research only focus­es on com­pas­sion among peo­ple who suc­cess­ful­ly endured a hard­ship. Per­haps indi­vid­u­als who failed in the face of a par­tic­u­lar adver­si­ty are more like­ly to offer empa­thy to those cur­rent­ly fail­ing? The researchers hope to test this idea.
Anoth­er ques­tion the researchers would like to explore is, as Rut­tan puts it, ​"can you flip the switch back and reignite com­pas­sion for these individuals?"
Maybe com­pas­sion can be reignit­ed by ask­ing peo­ple to think about how they, them­selves, were helped by oth­ers and did not just rely on their own strength or abil­i­ty in get­ting through a dif­fi­cult time.
Or per­haps sim­ply keep­ing this research in mind can change behav­ior. Nord­gren says a col­league of his approached him recent­ly after some stu­dents com­plained to him about how much aca­d­e­m­ic pres­sure they are under.
"He said, ​'my first reac­tion was, come on, pull your­self togeth­er,'" Nord­gren says. ​"Then he said, ​'I was think­ing about your work and when I real­ly thought hard, I remem­ber how much I freaked out about this as well.'"
Featured Faculty
About the Writer
Emily Stone is the research editor at Kellogg Insight.
About the Research
Ruttan, Rachel L., Mary-Hunter McDonnell, and Loran F. Nordgren. 2015. "Having 'Been There' Doesn't Mean I Care: When Prior Experience Reduces Compassion for Emotional Distress." Journal of Personality and Social Psychology. 108: 610–622.
Suggested For You
Most Popular
Most Popular Podcasts