Why a Choice Doesn't Feel Like a Choice When Morality Enters the Picture
Why a Choice Doesn't Feel Like a Choice When Moral­i­ty Enters the Picture
A new study explains why heroes always say, ​"I just did what any­body would do."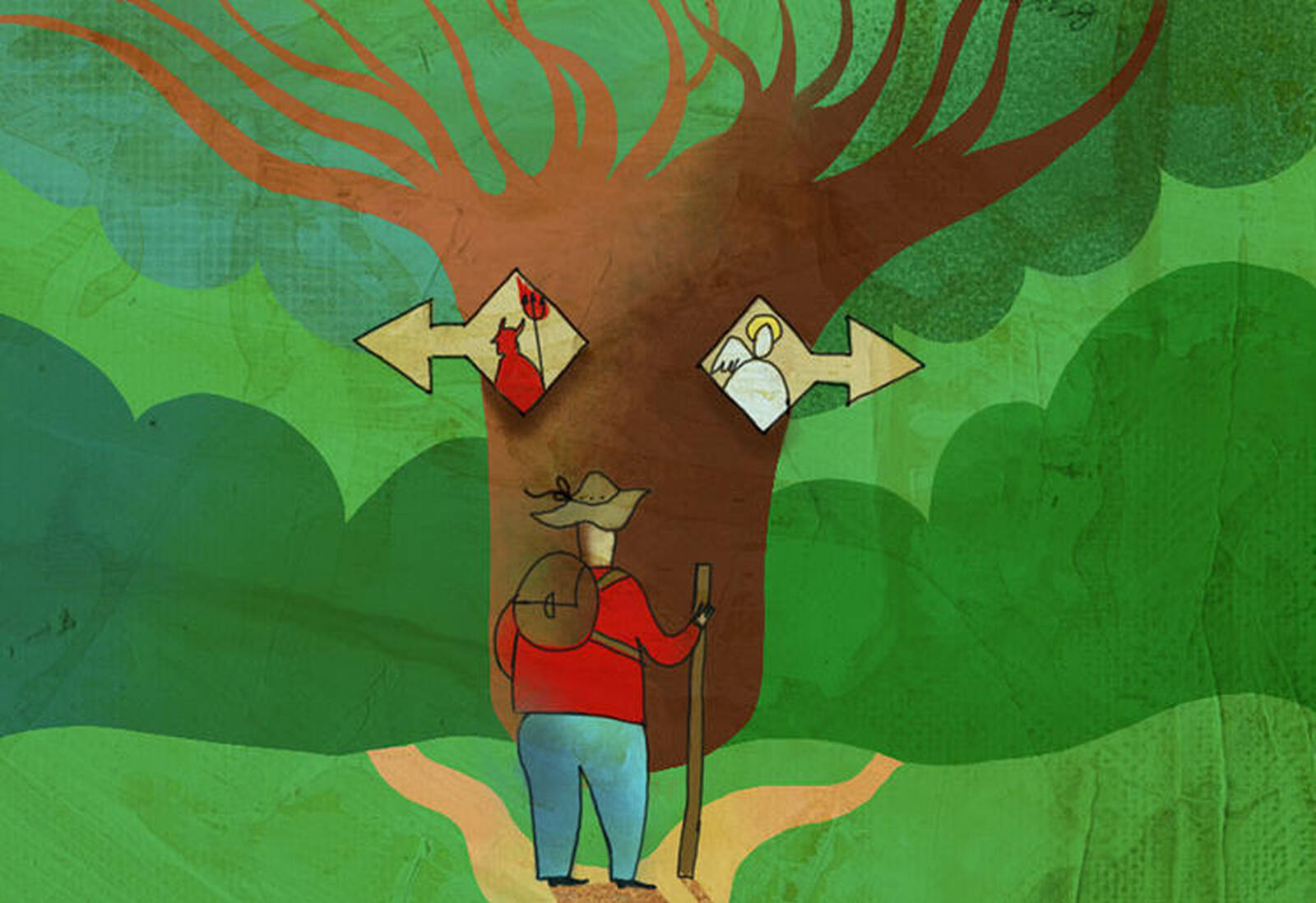 Yevgenia Nayberg
What makes one per­son act hero­ical­ly at a crit­i­cal moment while anoth­er wavers?
Add Insight
to your inbox.
We'll send you one email a week with content you actually want to read, curated by the Insight team.
Kellogg's Maryam Koucha­ki was struck by sto­ries of peo­ple who sprang into action when faced with such a choice — chas­ing down a mug­ger, for exam­ple — who lat­er said there hadn't been any alternative.
"Even though they did the most amaz­ing thing, it wasn't like they felt that they delib­er­at­ed. They felt like they had no choice," says Koucha­ki, an assis­tant pro­fes­sor of man­age­ment and orga­ni­za­tions, who stud­ies moral behav­ior — why we engage in it, why we fail at it, and how we think about it.
It is not just the heroes among us who view moral deci­sions this way. In fact, new research from Koucha­ki and coau­thors finds that across cul­tures, when peo­ple view a par­tic­u­lar deci­sion as being moral in nature, they don't feel like they are mak­ing a choice at all, and they pay less atten­tion to alter­na­tive cours­es of action.
The find­ing sur­prised Koucha­ki. Giv­en that moral­i­ty is so impor­tant to self-image, she imag­ined that ​"when you do some­thing good, you want to take cred­it for it." And the more you view your moral choic­es as choic­es, the more cred­it you could give yourself.
"Their sense of free­dom has been con­strained and it has a spillover effect for your actu­al behavior."
But that is not what she and her coau­thors Isaac Smith of Cor­nell Uni­ver­si­ty and Krish­na Savani of Nanyang Tech­no­log­i­cal Uni­ver­si­ty found. Instead, peo­ple ​"don't try to get cred­it for their moral choic­es as much as they poten­tial­ly could."
It makes a cer­tain kind of sense to Koucha­ki. ​"Moral­i­ty is all about defin­ing what's right to do," she says. Moral behav­ior is often viewed as a set of respon­si­bil­i­ties and oblig­a­tions. Think about the words we use for moral behav­ior, she says, where we often refer to what we ​"ought" to do.
"You see the link in the lan­guage we use," Koucha­ki explains.
Moral­i­ty and Deci­sions
To explore how peo­ple make moral deci­sions, the researchers devised sev­er­al relat­ed stud­ies. In the first, they recruit­ed 200 online par­tic­i­pants and asked them whether they viewed one of four issues (abor­tion, mar­i­jua­na use, gun con­trol, or recy­cling) as moral in nature.
Then, they pre­sent­ed study par­tic­i­pants with a sce­nario in which they had to make a choice relat­ed to one of the four issues — for instance, vot­ing on a firearms ban, or accept­ing a friend's offer to smoke mar­i­jua­na. Final­ly, they asked par­tic­i­pants to rank, on a scale of one to sev­en, how con­strained they felt in mak­ing that choice: ​"I had to vote yes (or no) on the firearms ban; I didn't have a choice."
It turned out that peo­ple who viewed a par­tic­u­lar issue as moral expe­ri­enced a low­er sense of choice when mak­ing a deci­sion relat­ed to that issue, as com­pared to peo­ple who did not view the issue as moral.
The team want­ed to make sure this find­ing was true across cul­tures and didn't just apply to high­ly indi­vid­u­al­is­tic Amer­i­cans. So they repeat­ed the same study with 200 online par­tic­i­pants from India. Instead of ask­ing about gun con­trol or abor­tion, they picked an issue that was more cul­tur­al­ly spe­cif­ic: eat­ing beef, which is pro­hib­it­ed in many Hin­du traditions.
As in the first study, par­tic­i­pants were asked if they viewed eat­ing beef as a moral issue. Then they were pre­sent­ed with a sce­nario in which a friend offered them a beef samosa.
Although the cul­tur­al issue was dif­fer­ent, the result was just the same: Indi­ans who viewed eat­ing beef as a moral issue expe­ri­enced a low­er sense of choice when decid­ing whether to accept the offered samosa.
The Effect of Choice Con­straint
The researchers next looked at how feel­ing restrained can affect oth­er aspects of behavior.
They knew from a 2009 study by oth­er researchers that peo­ple who feel phys­i­cal­ly con­strained tend to seek vari­ety in oth­er ways. For exam­ple, if the aisles of a store are nar­row, your pur­chas­es will be more var­ied than if the aisles are roomy. When pres­sure is put on your auton­o­my, the think­ing goes, you'll try to assert it in oth­er ways.
The researchers won­dered whether the psy­cho­log­i­cal con­straint of moral­i­ty might have a sim­i­lar effect. If you lack a sense of choice in moral deci­sions, will you seek more vari­ety in oth­er, unre­lat­ed decisions?
To test the idea, they repeat­ed the orig­i­nal study, ask­ing par­tic­i­pants whether they viewed using mar­i­jua­na as a moral issue. Then par­tic­i­pants were pre­sent­ed with a sce­nario in which they could accept or refuse a friend's offer to smoke. To mea­sure vari­ety-seek­ing behav­ior, the researchers then asked par­tic­i­pants to select sev­en pieces of choco­late from a set of sev­en dif­fer­ent flavors.
The more moral that par­tic­i­pants found the issue of mar­i­jua­na to be — mean­ing the more con­strained they felt in their abil­i­ty to make a choice — the more vari­ety they sought when pick­ing chocolate.
For Koucha­ki, it was fur­ther proof that moral deci­sions don't real­ly feel like choic­es at all. ​"Their sense of free­dom has been con­strained and it has a spillover effect for your actu­al behav­ior," she says.
Inside the Deci­sion-Mak­ing Process
In the final study, the researchers set out to under­stand what was hap­pen­ing as peo­ple mulled their moral choice. How much and how long did they con­tem­plate their choice? Did they real­ly not con­tem­plate alter­na­tive options, or did they only report a sense of con­straint after mak­ing a decision?
To get inside par­tic­i­pants' heads, the researchers used a tool that allowed them to mon­i­tor how long par­tic­i­pants con­tem­plat­ed each option by record­ing how long their mouse hov­ered over each choice on the com­put­er screen.
Par­tic­i­pants repeat­ed a study sim­i­lar to the first one: they were asked whether they con­sid­ered a par­tic­u­lar issue moral, giv­en a sce­nario about that issue, and then ranked their sense of choice from one to seven.
The team found that par­tic­i­pants who viewed an issue as moral hov­ered for less time on the option they did not choose as they made a deci­sion. This allowed the researchers to rule out the pos­si­bil­i­ty that par­tic­i­pants weighed both options equal­ly, but only report­ed a low­er sense of choice lat­er. Rather, view­ing a deci­sion as moral seemed to tru­ly influ­ence par­tic­i­pants' sense of mak­ing a choice.
Moral Choic­es in the Real World
So why, if peo­ple don't view moral choic­es as choic­es, do they so often misbehave?
In the real world, it gets com­pli­cat­ed, Koucha­ki says.
"Peo­ple might know the right or wrong thing to do," she says. ​"Still, we may fall for temp­ta­tion, because there are oth­er com­pet­ing moti­va­tions present that are strong."
On a hec­tic day, it is much eas­i­er to pitch your alu­minum can in the trash can next to you than it is to walk to the recy­cling bin down­stairs. There is usu­al­ly a cost, even a small one, to mak­ing the moral choice, and such costs are not gen­er­al­ly present in lab studies.
For Koucha­ki, the find­ings were both sur­pris­ing and, she con­fess­es, a lit­tle disappointing.
She had always thought her moral deci­sions were the result of con­scious, delib­er­ate thought, not just reflex­ive action.
"I want­ed to take cred­it," she says. ​"But appar­ent­ly not! This actu­al­ly proved my intu­ition was wrong."
Featured Faculty
About the Writer
Susie Allen is a freelance writer in Chicago.
About the Research
Kouchaki, Maryam, I. Smith, and Krishna Savani. Forthcoming. "Does Deciding Among Morally Relevant Options Feel Like Making a Choice? How Morality Constrains People's Sense of Choice." Journal of Personality and Social Psychology.
Suggested For You
Most Popular
Most Popular Podcasts
Trending
More in Politics & Elections