How We Shop Differently on Our Phones
How We Shop Dif­fer­ent­ly on Our Phones
What's in your cart? Depends on the device you are using.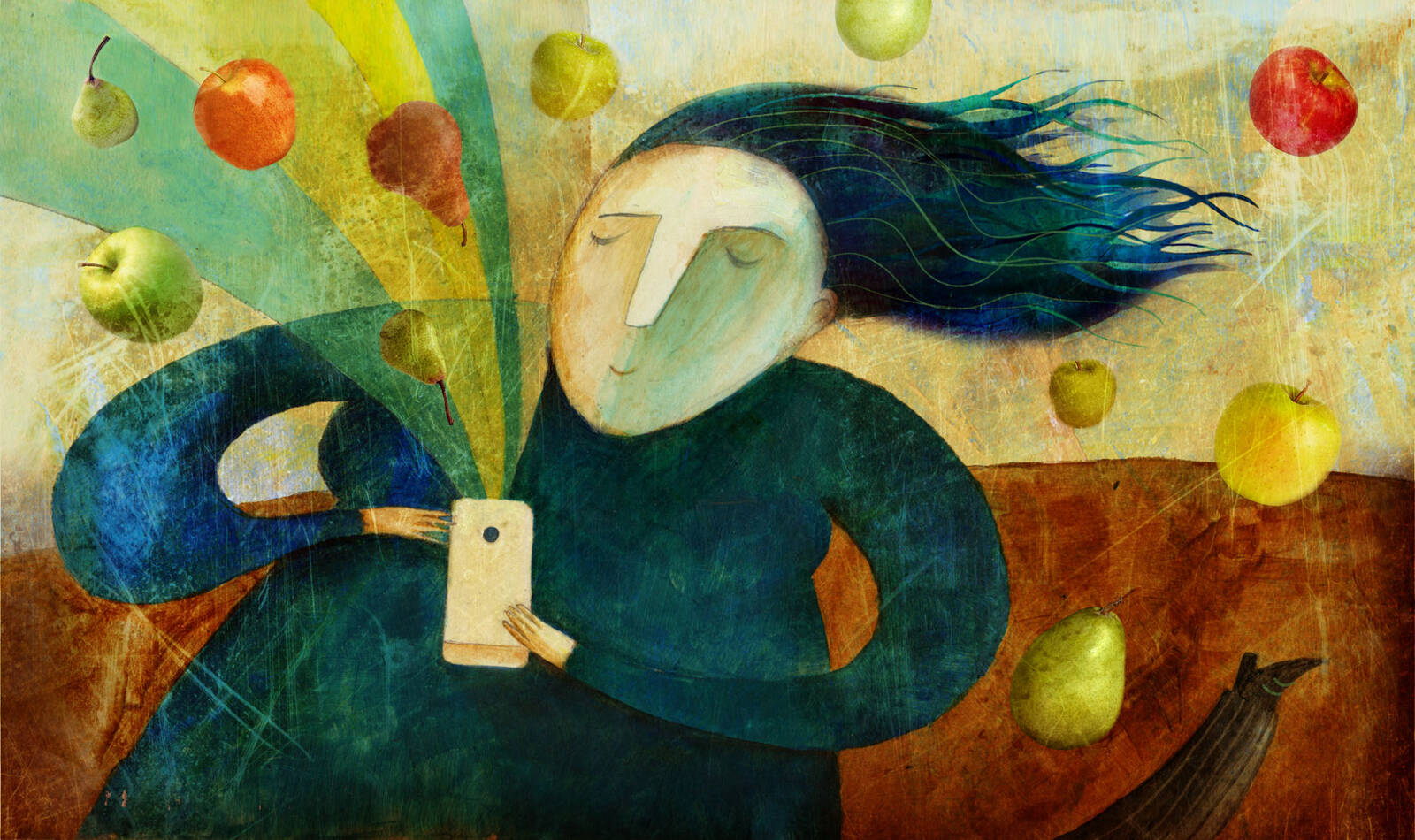 Yevgenia Nayberg
Con­sumers have come to love their mobile devices — that much is cer­tain. But how does the tech­nol­o­gy shape their shop­ping behavior?
Add Insight
to your inbox.
We'll send you one email a week with content you actually want to read, curated by the Insight team.
"Mobile shop­ping is no longer a future trend. It is hap­pen­ing now," said Rebec­ca Jen-Hui Wang, a mar­ket­ing Ph.D. can­di­date at the Kel­logg School. Though the impor­tance of mobile shop­ping is wide­ly rec­og­nized, and pri­vate com­pa­nies undoubt­ed­ly have their own data about mobile orders, few aca­d­e­m­ic researchers have looked at how cus­tomers' habits change when they pick up their iPads and smartphones.
Until now. In recent research, Wang and her coau­thors — Lak­sh­man Krish­na­murthi, a pro­fes­sor of mar­ket­ing at the Kel­logg School, and Edward Malt­house of Northwestern's Medill School of Jour­nal­ism — find that mobile tech­nol­o­gy has very dis­tinct advan­tages for retail­ers. But it also has dis­tinct disadvantages.
It gen­er­al­ly does not lead peo­ple to search out new items, they found, or to care­ful­ly weigh their options. When cus­tomers shop with a mobile device, they tend to pur­chase things that are famil­iar and that they buy reg­u­lar­ly — mean­ing that mobile is prob­a­bly not the best plat­form for intro­duc­ing a new product.
On the oth­er hand, mobile shop­ping is very effec­tive at build­ing loy­al­ty between a cus­tomer and a retail­er. It fos­ters what mar­ket­ing experts call ​"stick­i­ness" — the ten­den­cy for shop­pers to pre­fer, and keep return­ing to, brands and retail­ers that they trust.
For retail­ers, prob­a­bly the great­est ben­e­fit of mobile tech­nol­o­gy is the way it builds and strength­ens rela­tion­ships with cus­tomers who buy at a low vol­ume. Mobile shop­ping leads them to buy more fre­quent­ly — and to place larg­er orders.
"The more oppor­tu­ni­ties you give a cus­tomer to inter­act with a retail­er, the more the val­ue of the retail­er goes up."
"The impact on the low spenders is much greater than the impact on the high spenders," Krish­na­murthi said. ​"If you're a loy­al buy­er, I have you any­way. But what I'd like to do is con­vert the low buy­ers over time into heav­ier buy­ers. And [mobile shop­ping] can cre­ate some stick­i­ness, so that you buy more than you used to. And we can build on that. So, over the long run, this can be quite valu­able to a retailer."
Mobile Shop­ping on the Rise
The wide­spread adop­tion of smart­phones dates to 2007, when Apple unveiled the iPhone. Google launched the Android oper­at­ing sys­tem the fol­low­ing year. By 2016, an esti­mat­ed 2 bil­lion peo­ple — about one in four peo­ple on the plan­et — will use smart­phones. On Thanks­giv­ing Day 2014, 52 per­cent of brows­ing and online shop­ping in the U.S. orig­i­nat­ed from smart­phones and tablets. And these growth trends seem cer­tain to con­tin­ue. Rev­enue from mobile com­merce will increase from $72 bil­lion in 2013 to an esti­mat­ed $245 bil­lion by 2017, accord­ing to an analy­sis by the Boston Con­sult­ing Group.
Research into the effects of mobile shop­ping has been lim­it­ed by the pro­pri­etary nature of the infor­ma­tion. Com­pa­nies like Google and Face­book track con­sumer behav­ior, of course, but they use it for their own pur­pos­es. And since sta­tis­tics are hard to come by, researchers tend to rely on con­sumers' self-report­ed inten­tions — not their behav­ior — in ana­lyz­ing the effects of mobile shopping.
Wang and her coau­thors solved the prob­lem of self-report­ing by col­lab­o­rat­ing with an inter­net gro­cery retail­er that oper­ates in 12 states and Wash­ing­ton, D.C. The retail­er agreed to share its sales data with the researchers. ​"We're using empir­i­cal data that reflect actu­al behav­ior," Wang said.
They divid­ed the firm's data into two peri­ods. The first peri­od began in June 2012 and end­ed in Octo­ber 2012, when the retail­er launched an adver­tis­ing cam­paign that encour­aged peo­ple to use its mobile app. The sec­ond peri­od stretched from Novem­ber 2012 to June 2013.
The researchers com­pared the behav­ior of shop­pers who used a per­son­al com­put­er in the first peri­od with the behav­ior of those same shop­pers after adopt­ing the mobile app in the sec­ond peri­od. (Wang also used a sta­tis­ti­cal method to cre­ate a ​"con­trol group" of cus­tomers who did not adopt the app — but were sim­i­lar in oth­er ways to those who did adopt it.) How did using the mobile app affect a customer's order­ing habits?
Karen Freese
Sticky Fin­gers
The small screen size is the pri­ma­ry draw­back of shop­ping with a mobile app, since it reduces the amount of infor­ma­tion on a page. ​"In many respects, it's actu­al­ly eas­i­er to maneu­ver and learn new mate­r­i­al on a PC com­pared to a mobile device," Wang said.
But the great­est lim­i­ta­tion of mobile tech­nol­o­gy is also its great­est strength. The porta­bil­i­ty of smart­phones and tablets allows cus­tomers to make pur­chas­es from any­where they have an inter­net con­nec­tion. And even if they use their devices to make small pur­chas­es, the act of reg­u­lar­ly engag­ing with a retail­er has a pow­er­ful effect on cus­tomers' behavior.
The researchers found that the aver­age order size of low spenders (defined as shop­pers whose total spend­ing was less than the medi­an in the first phase) increased after they adopt­ed mobile shop­ping. They also placed more orders per year than they had using only a com­put­er. Among high-spend­ing mobile shop­pers, the size of the order remained about the same. But, as with the low spenders, the fre­quen­cy of their pur­chas­es steadi­ly increased the more they used their mobile devices for shopping.
"The more oppor­tu­ni­ties you give a cus­tomer to inter­act with a retail­er, the more the val­ue of the retail­er goes up," Krish­na­murthi said. ​"And the more the sales rev­enue from that cus­tomer goes up."
Build­ing Relationships
The upshot is that retail­ers should think of mobile tech­nol­o­gy as one way to build strong, durable rela­tion­ships with cus­tomers. But it is best viewed as com­ple­ment to — not a replace­ment for — oth­er forms of cus­tomer engage­ment. For exam­ple, peo­ple are like­ly to use a com­put­er instead of a mobile app when they buy goods that require more thought and research.
Wang and her coau­thors found that the most fre­quent­ly shopped cat­e­gories among mobile shop­pers were diet aids, bev­er­ages, and fruit — the kind of things that peo­ple use almost imme­di­ate­ly and buy reg­u­lar­ly. Among the least fre­quent­ly shopped cat­e­gories were stuff­ing, sta­tionery, light bulbs, and oth­er elec­tri­cal prod­ucts — the kind of things that peo­ple tend to buy only occasionally.
"If a bas­ket is com­posed by a lot of PC ses­sions, it tends to have things that require more con­sid­er­a­tion," Wang said. ​"With mobile ses­sions, the order is more like­ly to include things that have a short life cycle."
The short life cycle means that the cus­tomer will like­ly buy it again soon, and the odds are increas­ing­ly good that she will buy it using a mobile device. Retail­ers that con­sis­tent­ly deliv­er a pos­i­tive expe­ri­ence to such shop­pers will be well posi­tioned to prof­it from mobile technology's recent, rapid rise — while build­ing a loy­al cus­tomer base for the long run.
Featured Faculty
About the Writer
Theo Anderson is a freelance writer based in Chicago.
About the Research
Wang, Rebecca Jen-Hui, Edward Malthouse, and Lakshman Krishnamurthi. 2015. "On the Go: How Mobile Shopping Affects Customer Purchase Behavior." Journal of Retailing 91 (2): 217–234.
Suggested For You
Most Popular
Most Popular Podcasts