NASCAR Overhauls the Fan Experience
NASCAR

Over­hauls the Fan Experience

How the car-rac­ing giant over­came flag­ging engagement.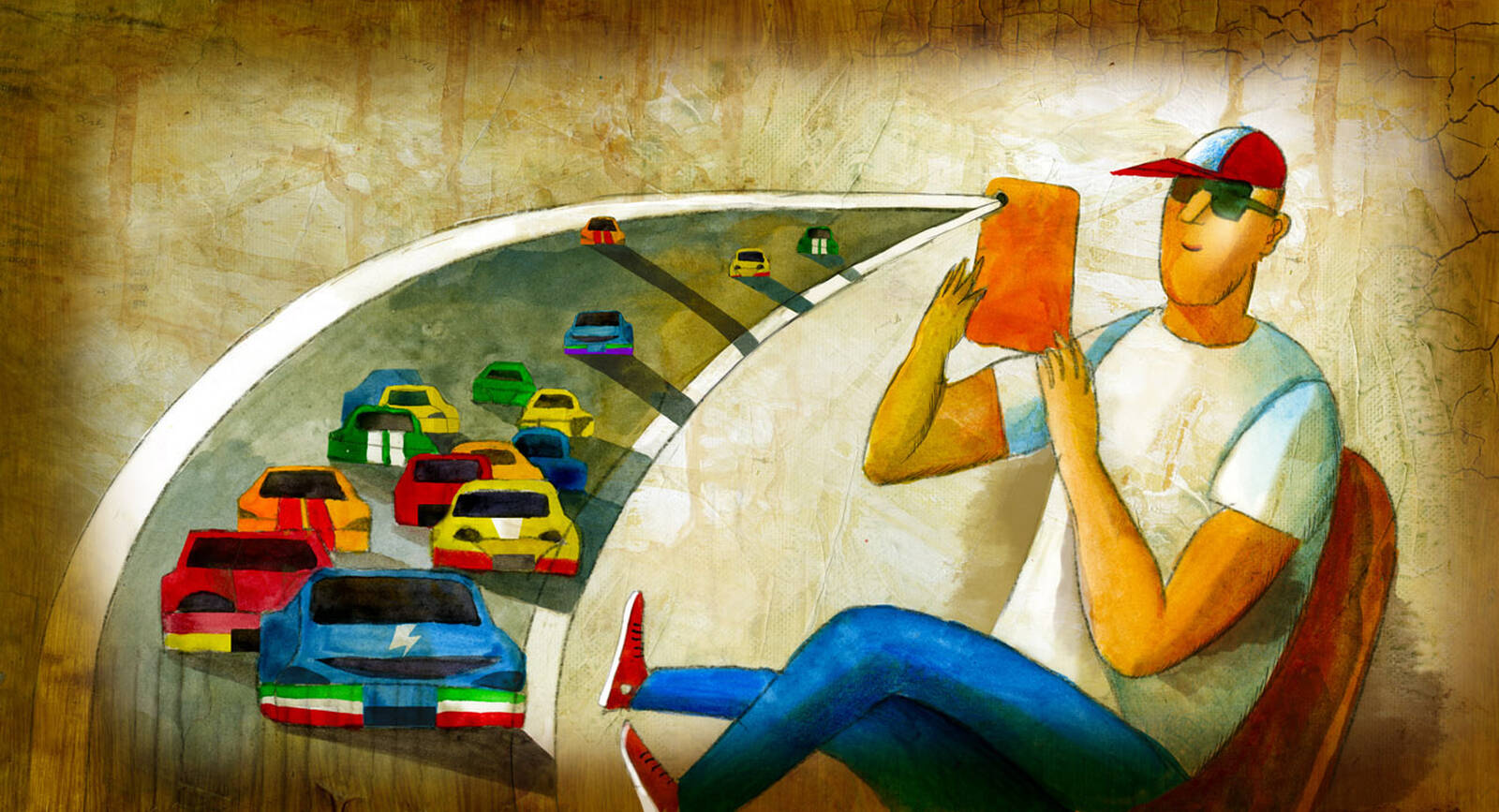 Yevgenia Nayberg
Ear­li­er this year the NASCAR mar­ket­ing com­mu­ni­ca­tions team won PRWeek​'s pres­ti­gious In-house PR Team of the Year award, beat­ing con­tenders like Tay­lor Swift's PR team and the Unit­ed States Olympic Com­mit­tee. But the NASCAR of 2015 — launch­ing a new dig­i­tal plat­form, increas­ing its YouTube views by 1,190%, and secur­ing the most valu­able tele­vi­sion broad­cast con­tracts in the company's his­to­ry — is a far stretch from the NASCAR of 2011, which had plum­met­ing race atten­dance, falling TV rat­ings, and flee­ing spon­sors. What tran­spired between then and now was noth­ing short of a mar­ket­ing trans­for­ma­tion, says Pro­fes­sor Eric Ander­son, chair of the Kel­logg School of Management's mar­ket­ing depart­ment. And what it took to tru­ly trans­form the organization's image went far beyond chang­ing a logo or increas­ing an ad bud­get. It took a thor­ough reex­am­in­ing of the entire fan experience.
Research­ing Its Own Irrelevance
"Dan­ger­ous irrel­e­vance" were the words used in 2011 to sum­ma­rize an out­side consultant's com­pre­hen­sive assess­ment of the state of NASCAR. Bri­an France (NASCAR's CEO and the grand­son of its founder) had com­mis­sioned the research, con­cerned that the multi­bil­lion-dol­lar sport of stock-car auto rac­ing had been in a state of decline since 2006.
"The dig­i­tal age was upon us, so I was wrestling with ques­tions like: Are our young fans going to con­sume us dif­fer­ent­ly? Are atten­tion spans real­ly short­en­ing, and are these new devices real­ly going to be what dri­ves con­tent? If so, how does our indus­try under­stand all these things? Every­where I looked, we were doing things very tra­di­tion­al­ly, which had worked for a long time but wasn't work­ing any­more," said France.
Add Insight
to your inbox.
We'll send you one email a week with content you actually want to read, curated by the Insight team.
Through­out the 1990s and ear­ly 2000s, NASCAR had enjoyed dou­ble-dig­it growth annu­al­ly. But with view­er­ship and atten­dance declin­ing, major spon­sors defect­ed in the late 2000s. As NASCAR had always gar­nered more For­tune 500 cor­po­rate spon­sors than any oth­er U.S. sport, France sensed major prob­lems were brew­ing. The busi­ness mod­el of the entire indus­try (the pri­vate­ly owned sanc­tion­ing body of NASCAR, the pub­licly owned race tracks, the race teams and their dri­vers, the OEMs of the race cars, and broad­cast part­ners) hinged on spon­sors. And spon­sors want­ed engaged fans.
To find the root cause of tank­ing race atten­dance and tele­vi­sion view­er­ship, the jolt­ing symp­toms of dis­en­gage­ment, France ini­ti­at­ed what became one of the largest mar­ket­ing research ini­tia­tives under­tak­en by a U.S. sport. The research, led by Tay­lor Strat­e­gy, explored four areas: 1) the broad­er sports industry's dig­i­tal and social com­mu­ni­ca­tions capa­bil­i­ties and how they com­pared to those of NASCAR, 2) fans' live expe­ri­ence at the race tracks, 3) the lev­el of star pow­er of NASCAR's dri­vers com­pared to that of oth­er sports stars, and 4) the next gen­er­a­tion of NASCAR fans. Many of France's advi­sors were weary of invest­ing so heav­i­ly in research in the midst of a reces­sion. But France felt inde­pen­dent research would be a key asset in engag­ing the whole indus­try sur­round­ing his sanc­tion­ing body in major change.
"Mil­len­ni­als are dif­fer­ent from baby boomers. They want social engage­ment and dig­i­tal inter­ac­tion with brands." —Eric Anderson
"Before the mid-2000s — and this would be true for any indus­try — the val­ue cre­ators had all the say in a company's future, while the cost cut­ters were man­ag­ing mon­ey, pay­ing tax­es, and keep­ing things in the lane. As soon as [the reces­sion] hit, the cost cut­ters sud­den­ly had a big­ger seat at the table. That's one of the hard­est things to deal with inter­nal­ly… [but] when you have falling met­rics and things are tough, your com­mer­cial part­ners are going to put pres­sure on you. If you can't say that you have a cred­i­ble plan, a plan that they can join into, they're not going to join you at all."
Neglect­ed Millennials
The company's research paint­ed a pic­ture that, if any­thing, was more dire than predicted.
NASCAR had not engaged mil­len­ni­als or more broad­ly pur­sued new cus­tomer seg­ments. Fac­ing an aging core fan base — white mar­ried males with an aver­age age of 47 — the seg­ments that would fuel the sport's future growth had not yet been identified.
"Mil­len­ni­als are dif­fer­ent from baby boomers." explained Ander­son. ​"They want social engage­ment and dig­i­tal inter­ac­tion with brands."
But the organization's cur­rent dig­i­tal strat­e­gy lacked any real, well, strat­e­gy for chang­ing this. NASCAR had out­sourced its online pres­ence to Turn­er Sports, to whom it had been licens­ing all of NASCAR's dig­i­tal prop­er­ties since 2000. Turn­er con­trolled NASCAR​.com, NASCAR's Face­book page, its Twit­ter han­dles, etc., and it did so with an eye for max­i­miz­ing its own bot­tom line, not a long-term vision for grow­ing the sport.
As a result, incon­sis­ten­cy abound­ed on NASCAR's online plat­forms. The NASCAR​.com pages of small­er teams that were unable to pay Turn­er for the right to post their dri­ver pho­tos and spon­sor logos appeared half emp­ty. ​"And our cor­po­rate spon­sors weren't able to push out dig­i­tal­ly and social­ly to our fan base, their cus­tomers, in a way that allowed them to max­i­mize their spon­sor­ship unless they went through Turn­er," explained NASCAR's Chief Mar­ket­ing Offi­cer, Steve Phelps. This cre­at­ed a dis­joint­ed user expe­ri­ence that dis­cour­aged online explo­ration of the sport.
Fur­ther, NASCAR dri­vers were not moti­vat­ed to inter­act with fans on social media. With the longest sea­son (10 months) of any pro­fes­sion­al ath­lete and race teams focused on R&D to make their cars go faster, dri­vers' pri­or­i­ties and com­pe­ten­cies were not in build­ing their per­son­al brands on social media. Some of the sport's most pop­u­lar stars even denounced it. ​"Con­trast this with the amount of activ­i­ty it takes to cre­ate a brand like LeBron James, and you can see why fan engage­ment was a seri­ous chal­lenge for NASCAR," says Anderson.
Mil­len­ni­als who made it to the races and loved the live expe­ri­ence also faced dis­ap­point­ment when attempt­ing to share it with their social net­works. Attend­ed by over one hun­dred thou­sand fans, each NASCAR race typ­i­cal­ly took place in a rur­al area at a track that was uti­lized by NASCAR once, maybe twice, per year. This cre­at­ed a chal­leng­ing envi­ron­ment for cell phone ser­vice and WiFi.
The fan expe­ri­ence is crit­i­cal, explains Ander­son: ​"NASCAR is com­pet­ing not just for a share of cus­tomers' auto dol­lars or sports dol­lars, but enter­tain­ment dol­lars," and the research had revealed that mil­len­ni­als large­ly attend­ed sport­ing events not for the sport itself but as a social occa­sion. Aspects in which fans per­ceived NASCAR as infe­ri­or to oth­er sport­ing and live enter­tain­ment events were scrutinized.
Com­pre­hen­sive Solu­tion Required
The plan that France's team devel­oped in response to the research results to pri­or­i­tize the myr­i­ad issues was the Indus­try Action Plan. To cre­ate this vision for the future of the sport, NASCAR reached across the breadth of the sanc­tion­ing body. ​"Impor­tant­ly, we didn't grab the thir­ty high­est titles in the [orga­ni­za­tion]. We grabbed peo­ple who we knew were high­ly influ­en­tial with­in our com­pa­ny, young peo­ple and exec­u­tives — peo­ple who had a lot of ener­gy for the direc­tion we knew we need­ed to take the sport," said Eric Nyquist, NASCAR's Vice Pres­i­dent of Strate­gic Development.
France then took the lead in resourc­ing some of the plan's objec­tives — like hir­ing the tal­ent to staff an Indus­try Ser­vices group with­in the sanc­tion­ing body to pro­vide media train­ing and mar­ket­ing resources to dri­vers and teams — and was the key advo­cate in pitch­ing the plan to the rest of the indus­try. Many changes neces­si­tat­ed gain­ing com­mit­ments from inde­pen­dent part­ners, like the pub­lic cor­po­ra­tions who owned the major­i­ty of tracks on which NASCAR races were held, to make mas­sive cap­i­tal improvements.
"There is more con­nec­tiv­i­ty at our events [than almost any oth­er event in the U.S.]. It's like mov­ing two square blocks of Man­hat­tan around the coun­try as a trav­el­ing cir­cus," described Nyquist. "[Tack­ling infra­struc­ture] was a major under­tak­ing that has tak­en place over the last two years, but it was crit­i­cal. With­out it, we couldn't build to the next lev­el of ele­ments that we want­ed to bring to the fan experience."
What result­ed was not a trans­for­ma­tion of the sport itself but rather inno­va­tion in ser­vice and inno­va­tion in col­lab­o­ra­tion. The fruits of inno­va­tion can been seen in NASCAR's 2015 – 2024 broad­cast rights deals, the rev­enue cor­ner­stone of the sport that trick­les to all of the industry's stake­hold­ers. They totaled $10.94 bil­lion —more than dou­ble its 2007 – 2014 deals.
"France not only ini­ti­at­ed changes with­in NASCAR, he devel­oped a com­pelling plan for his indus­try part­ners to join onto. He had clear asks and invest­ed time in sell­ing his vision," says Ander­son. ​"If he had mere­ly trans­formed his sanc­tion­ing body, the sport would not have seen the lev­el of suc­cess it has today."
Featured Faculty
About the Writer
Vasilia Kilibarda is the manager of case writing for Kellogg Case Publishing.
Suggested For You
Most Popular
Most Popular Podcasts