Why Economic Crises Trigger Political Turnover in Some Countries but Not Others
Why Eco­nom­ic Crises Trig­ger Polit­i­cal Turnover in Some Coun­tries but Not Others
The fall­out can hinge on how much a country's peo­ple trust each other.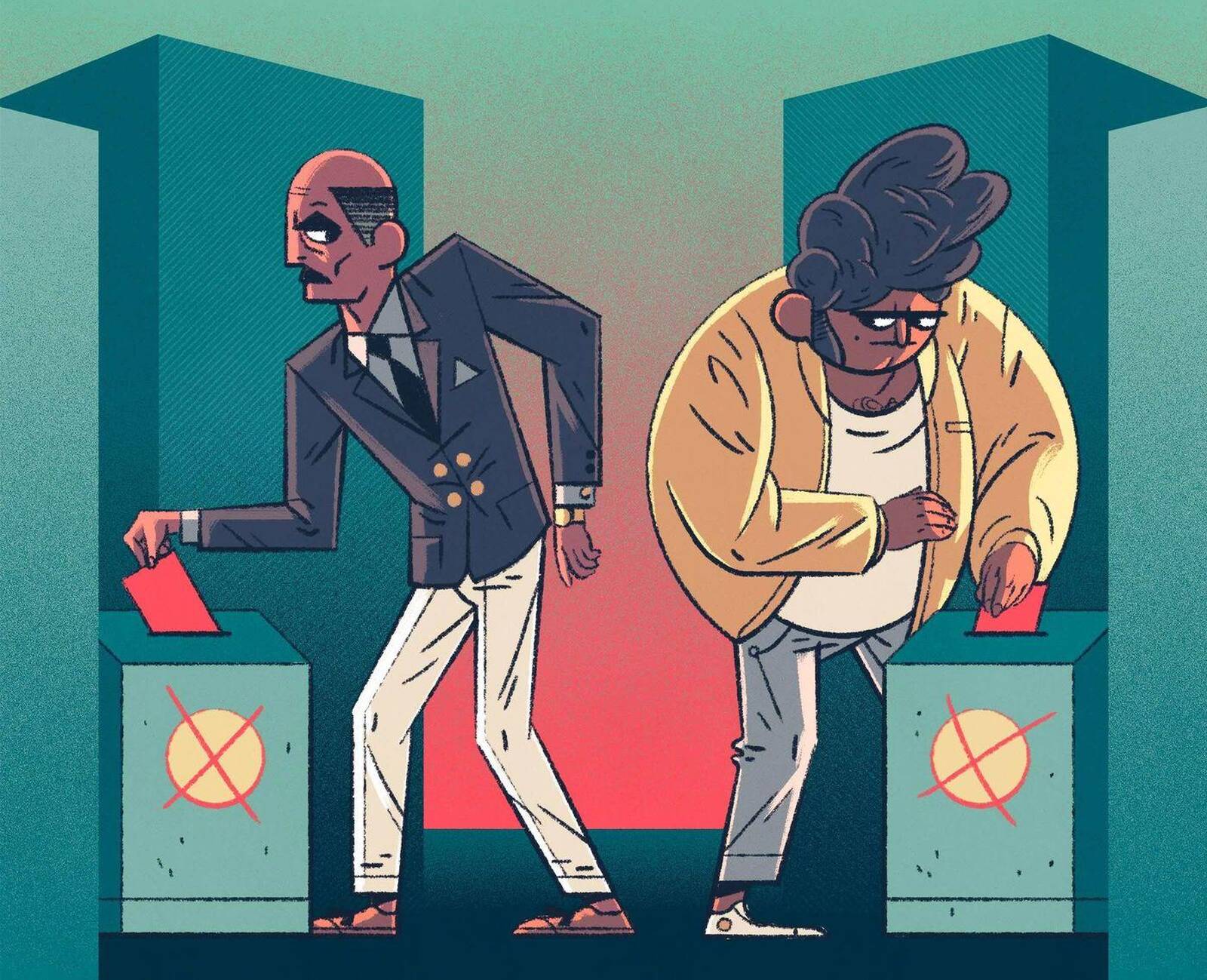 Michael Meier
In 2009, the Greek econ­o­my crashed, send­ing the coun­try into a severe reces­sion. The finan­cial fail­ure also churned up polit­i­cal unrest: the gov­ern­ment was forced to call for an ear­ly elec­tion and lost power.
Add Insight
to your inbox.
We'll send you one email a week with content you actually want to read, curated by the Insight team.
The eco­nom­ic cri­sis that rat­tled Greece was not iso­lat­ed — it affect­ed sev­er­al coun­tries in the Euro­pean Union. Nor­way, for exam­ple, also expe­ri­enced a dip in its gross domes­tic prod­uct. Yet there was lit­tle polit­i­cal tur­moil in the country.
Why the difference?
"There was a lot of news about peo­ple being angry with the Greek gov­ern­ment and feel­ing lied to by their politi­cians," says Nan­cy Qian, pro­fes­sor of man­age­r­i­al eco­nom­ics and deci­sion sci­ences at the Kel­logg School. ​"It was strik­ing that in oth­er Euro­pean coun­tries going through a reces­sion, we weren't hear­ing about polit­i­cal unrest or riots."
Through­out his­to­ry, eco­nom­ic crises have sparked dif­fer­ing polit­i­cal respons­es. But it can be dif­fi­cult to pin­point the under­ly­ing rea­son for any dif­fer­ences because coun­tries like, for instance, Greece and Nor­way dif­fer in many ways, includ­ing their over­all lev­els of prosperity.
So Qian and coau­thors decid­ed to focus on one spe­cif­ic met­ric: how much the peo­ple of a coun­try typ­i­cal­ly trust oth­er people.
"It's about how like­ly I am to attribute the eco­nom­ic prob­lems to cir­cum­stance or luck ver­sus to the polit­i­cal leadership."
They found that in coun­tries where gen­er­al trust lev­els are high, an eco­nom­ic cri­sis is less like­ly to trig­ger polit­i­cal unrest. But in coun­tries where peo­ple feel less trust­ing of oth­ers, signs of a flail­ing econ­o­my are more like­ly to lead to the rul­ing par­ty being vot­ed out of power.

"If I'm a less trust­ing per­son, I might say some­thing like, ​'I don't under­stand the details of what our leader is doing, but most politi­cians are bad and they're lazy, so it is prob­a­bly his fault,'" Qian explains. Alter­nate­ly, a trust­ing per­son might blame fac­tors beyond politi­cians' con­trol. ​"It's about how like­ly I am to attribute the eco­nom­ic prob­lems to cir­cum­stance or luck ver­sus to the polit­i­cal leadership."
Mea­sur­ing Polit­i­cal Unrest and the Economy
To test the role of trust in polit­i­cal fall­out, Qian and her col­leagues Nathan Nunn of Har­vard Uni­ver­si­ty and Jaya Wen of Yale Uni­ver­si­ty merged pub­licly avail­able data sets that includ­ed events across most of the world's countries.
They gath­ered glob­al data from 1945 to 2014 from the Archi­gos data­baseon whether the head of gov­ern­ment was replaced in any giv­en year. (Rather than look­ing at the des­ig­nat­ed leader — in some instances, a cer­e­mo­ni­al monarch — the researchers con­sid­ered effec­tive rulers of state, such as the prime min­is­ter in par­lia­men­tary sys­tems or the chair­man of the par­ty for com­mu­nist countries.)
Sep­a­rate­ly, they cal­cu­lat­ed the aver­age lev­el of trust in a coun­try using sources such as the World Val­ues Sur­vey, which sam­ples a rep­re­sen­ta­tive pop­u­la­tion in each coun­try. Ques­tions include ones such as: ​"Gen­er­al­ly speak­ing, would you say that (A) most peo­ple can be trust­ed or (B) that you need to be very care­ful in deal­ing with people?"
The researchers then defined a met­ric of aver­age trust as the frac­tion of respon­dents from a coun­try who said most peo­ple can be trust­ed. Nor­way ranked high­est, with a val­ue of 0.79, and Cape Verde scored the low­est at 0.03, mean­ing only 3 per­cent of peo­ple said they gen­er­al­ly trust­ed others.
Pre­cise­ly why trust varies in coun­tries is unclear, Qian says, but it is a mea­sure that remains rel­a­tive­ly unvary­ing with time.
The researchers also used the data to mea­sure how polit­i­cal turnover cor­re­lat­ed with eco­nom­ic down­turns — defined as peri­ods of neg­a­tive GDP growth — in coun­tries with dif­fer­ing lev­els of trust. ​"We com­pared the prob­a­bil­i­ty of polit­i­cal turnover for any giv­en coun­try between when they had a reces­sion and when they did not," Qian says.
Then, they stud­ied how those odds var­ied with dif­fer­ing lev­els of aver­age trust in a country.
Trust's Role in Polit­i­cal Turnover
Indeed, trust played a part in deter­min­ing which coun­tries vot­ed their lead­ers out of office after a recession.
Eco­nom­ic down­turns were less like­ly to cause polit­i­cal turnover in high-trust coun­tries than in low-trust ones. For exam­ple, a reces­sion was 12 per­cent more like­ly to trig­ger a change in polit­i­cal lead­er­ship in Italy, where only 29 per­cent of peo­ple say they are gen­er­al­ly trust­ing, than in Swe­den, where 63 per­cent of the pop­u­la­tion has high lev­els of trust.
This rela­tion­ship was only seen in democ­ra­cies, where peo­ple had the pow­er to vote offi­cials out of office.
"We didn't see this pat­tern in autoc­ra­cies, which makes sense," Qian says. ​"You can change your lead­er­ship in an autoc­ra­cy by hav­ing a rev­o­lu­tion or a coup, but that is more dif­fi­cult to pull off, so there's not much peo­ple can do," even if they are gen­er­al­ly slow to trust.
So does elect­ing a new gov­ern­ment help an econ­o­my recov­er after a recession?
The researchers found that high-trust coun­tries that did not vote gov­ern­ments out of office after a reces­sion tend­ed to bounce back faster than nations that vot­ed for a change in the rul­ing par­ty. The cor­re­la­tion is not a causal link, Qian explains. High-trust coun­tries also have oth­er fac­tors, such as more media free­dom, high­er incomes, and stronger democ­ra­cies, which may play a part in this recovery.
Last­ly, the researchers exam­ined the inter­na­tion­al impacts of eco­nom­ic slumps. After all, reces­sions can rip­ple across bor­ders. But the team found that a down­turn in one coun­try did not trig­ger polit­i­cal events in a neigh­bor­ing nation or a trade partner.
"We didn't expect to find such a clear result that it's only reces­sions in one's own coun­try that mat­ter," Qian says. ​"It implies vot­ers are able to sep­a­rate what's hap­pen­ing in their home coun­try, where they might want to blame their politi­cians, from what's beyond their lead­ers' control."
Pars­ing Eco­nom­ic Policies
The results have direct impli­ca­tions for how nations approach eco­nom­ic interactions.

"For exam­ple, we are now enter­ing a trade war with sev­er­al coun­tries," Qian says. ​"If we think our trade deci­sions are going to have eco­nom­ic effects in those nations, we need to also con­sid­er the poten­tial polit­i­cal consequences."
Featured Faculty
About the Writer
Jyoti Madhusoodanan is a Bay Area-based science writer.
About the Research
Qian, Nancy, Nathan Nunn, and Jaya Wen. 2018. "Distrust and Political Turnover." Working paper.
Suggested For You
Most Popular
Most Popular Podcasts
Trending
More in Politics & Elections