Hire a Superstar or Dump a Toxic Worker?
Hire a Super­star or Dump a Tox­ic Worker?
Dif­fi­cult employ­ees are a big­ger drag on your com­pa­ny than you think.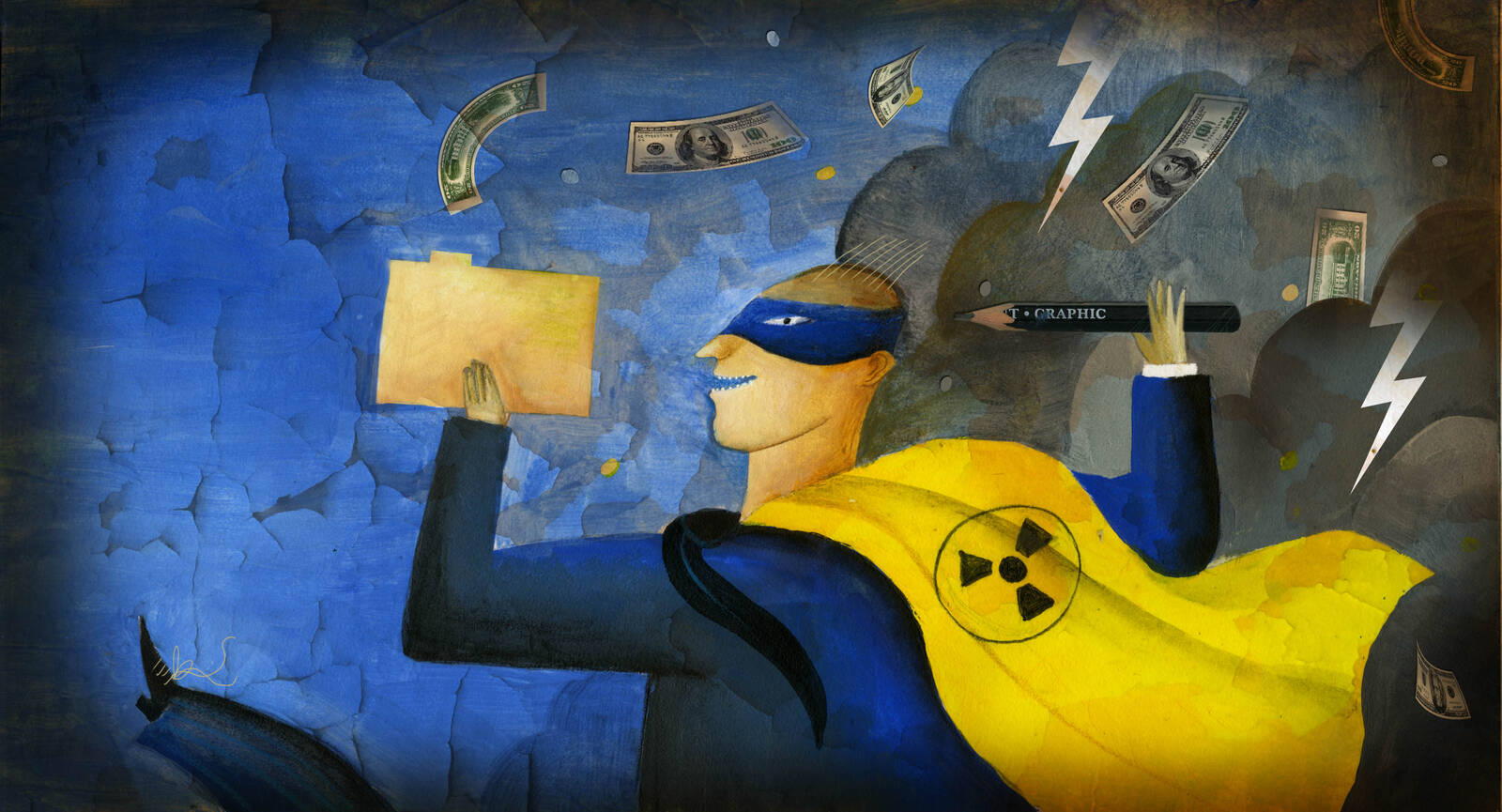 Yevgenia Nayberg
Com­pa­nies know they can lure and retain top tal­ent by offer­ing hefty bonus­es, cor­ner offices, or stock options. But what about work­ers at the oth­er end of the spec­trum who are a drag on com­pa­ny per­for­mance? How much atten­tion should com­pa­nies be giv­ing to these prob­lem employees?
Add Insight
to your inbox.
We'll send you one email a week with content you actually want to read, curated by the Insight team.
A lot, accord­ing to new research by Dylan Minor of the Kel­logg School.
Minor and his coau­thor look at ​"tox­ic work­ers," those who engage in ille­gal or uneth­i­cal behav­iors that might harm an orga­ni­za­tion. Tox­ic work­ers, the researchers find, com­plete low­er-qual­i­ty work, spread uneth­i­cal behav­ior to oth­er employ­ees, and dimin­ish cus­tomer sat­is­fac­tion. In fact, the cost asso­ci­at­ed with employ­ing a tox­ic employ­ee is greater than the ben­e­fit of employ­ing a top per­former. It may be bet­ter for the bot­tom line, in oth­er words, for orga­ni­za­tions to put resources toward deal­ing with their tox­ic work­ers than to focus their ener­gies on superstars.
"There's lots of work on high per­form­ers, the super­stars … but we need to under­stand the oth­er end of the spectrum."
The research also iden­ti­fies pre­dic­tors of tox­ic behav­ior and pro­pos­es strate­gies com­pa­nies can use so they are not sad­dled with these prob­lem­at­ic employees.
A Com­mon but Under­stud­ied Problem
Minor, an assis­tant pro­fes­sor of man­age­r­i­al eco­nom­ics and deci­sion sci­ences, has had a long­stand­ing inter­est in the fac­tors that go into design­ing an effec­tive orga­ni­za­tion. He and coau­thor Michael Hous­man, an exec­u­tive with the tal­ent man­age­ment soft­ware firm Cor­ner­stone OnDe­mand, decid­ed to inves­ti­gate the ram­i­fi­ca­tions of tox­ic employ­ees — a research top­ic that has rarely been studied.
"There's lots of work on high per­form­ers, the super­stars," Minor says, ​"but we need to under­stand the oth­er end of the spectrum."
The researchers used a data set from Cor­ner­stone, a con­sult­ing firm that pro­vides com­pa­nies with tests to assess job can­di­dates and employ­ees. The data includ­ed how employ­ees self-assessed their skills, how good their skills actu­al­ly were when test­ed on them, as well as how they per­formed if they were hired and whether they were fired. The data cov­ered more than 58,000 hourly ser­vice work­ers at 11 well-known firms across sev­er­al years.
"The trove of data allowed us to fol­low work­ers over time and observe the pre­dic­tors and con­se­quences of tox­i­c­i­ty," Minor says.
How com­mon is tox­ic behav­ior, which the researchers defined as ​"an egre­gious vio­la­tion of com­pa­ny pol­i­cy" that result­ed in get­ting fired? In the researchers' sam­ple, a giv­en employ­ee had about a 5 per­cent chance of engag­ing in tox­ic behav­ior — like sex­u­al harass­ment or fraud — dur­ing the peri­od observed.
The High Cost of Tox­ic Workers
Tox­ic work­ers can have seri­ous con­se­quences for com­pa­nies — often appear­ing to be great work­ers while actu­al­ly under­min­ing a company's reputation.
The research finds that tox­ic employ­ees com­plet­ed their work more quick­ly than oth­er employ­ees. This may explain why an invest­ment firm, for exam­ple, might not notice that a seem­ing­ly suc­cess­ful rogue trad­er is actu­al­ly engag­ing in ques­tion­able behav­ior. But ulti­mate­ly, tox­ic work­ers tend to deliv­er low­er-qual­i­ty work, as mea­sured by cus­tomer satisfaction.
"In the short term, it looks like they're doing well," Minor says, ​"but the poor qual­i­ty of their work can dam­age the firm's reputation."
Addi­tion­al­ly, a high­er den­si­ty of uneth­i­cal employ­ees in a par­tic­u­lar work group increas­es the like­li­hood oth­er group mem­bers will dis­play uneth­i­cal behav­ior. In fact, when a per­son was in a work group with a high den­si­ty of tox­ic employ­ees, Minor saw a 47 per­cent increase in the like­li­hood that per­son would become toxic.
"It's a dam­ag­ing form of ​'eth­i­cal spillover,'" Minor says. ​"We can think of the behav­ior as a sort of virus, mak­ing the ​'tox­ic work­er' an apt label."
Just how expen­sive are tox­ic employ­ees? To quan­ti­fy the harm they inflict, the researchers com­pared the val­ue of hir­ing a super­star employ­ee with mere­ly elim­i­nat­ing a tox­ic one, based on per­for­mance data.
The results were star­tling. A top 1 per­cent super­star — a very rare high per­former — brings an extra $5,300 in val­ue by doing more work than an aver­age employ­ee does. Replac­ing a tox­ic work­er with an aver­age one cre­ates an esti­mat­ed $12,800 in cost sav­ings over the same peri­od by reduc­ing the cost of turnover around that tox­ic work­er. Sim­i­lar­ly, replac­ing a tox­ic work­er yield­ed almost four times the val­ue of hir­ing a top 10 per­cent performer.
"That doesn't even take into account the spillover, legal, and rep­u­ta­tion­al effects of tox­ic work­ers," Minor says. ​"So I think it is a con­ser­v­a­tive estimate."
Pre­dic­tors of Toxicity
The researchers' work uncov­ered sev­er­al pre­dic­tors of tox­ic behavior.
One had to do with con­fi­dence. Employ­ees in the sam­ple self-assessed their tech­ni­cal skills in sev­er­al areas. Their assess­ment was then com­pared with sub­se­quent mea­sures of their actu­al abil­i­ties, yield­ing an over/un­der-con­fi­dence mea­sure. Over­con­fi­dence was a strong pre­dic­tor of tox­ic behavior.
"From an eco­nom­ic per­spec­tive, over­con­fi­dence often means get­ting your prob­a­bil­i­ty esti­mates wrong," Minor says, ​"includ­ing under­es­ti­mat­ing the like­li­hood you'll get caught for some­thing uneth­i­cal." Work­ers who were over­ly con­fi­dent about their spread­sheet skills, for exam­ple, might also have over­es­ti­mat­ed their abil­i­ty to get away with tar­di­ness or cheat­ing on timesheets.
Sev­er­al ques­tions in the job-screen­ing ques­tion­naire eval­u­at­ed how ​"oth­er-regard­ing" the can­di­dates were, mean­ing how will­ing they were to address oth­er people's con­cerns. Not sur­pris­ing­ly, the more oth­er-regard­ing the can­di­dates, the less like­ly they were to become toxic.
Anoth­er pre­dic­tor was more sur­pris­ing: employ­ees who agreed with pre­screen state­ments like ​"I believe that rules are made to be fol­lowed" were more like­ly to engage in tox­ic actions. ​"We can think of this as a clever hon­esty test," Minor says. ​"Most peo­ple under­stand that there are times when it may not make sense to fol­low the rules." So peo­ple who rigid­ly endorsed rule-fol­low­ing were, per­haps iron­i­cal­ly, more like­ly to break them.
Final­ly, poor job fit — when employ­ees were in posi­tions that did not com­ple­ment their tal­ents well — was anoth­er pre­dic­tor of tox­ic behavior.
What's a Man­ag­er to Do?
So how do com­pa­nies free them­selves of tox­ic employees?
Avoid­ance has been the main tool to date. Most busi­ness­es try to screen out such can­di­dates at the hir­ing stage. Minor advo­cates more strate­gic inter­ven­tion. ​"Tox­i­c­i­ty prob­a­bly emerges from a com­bi­na­tion of nature and nur­ture," he says. ​"So while there may be a pre­dis­po­si­tion to these behav­iors, we need to pro­vide the right kind of nur­tu­rance to pre­vent them — just like putting all crim­i­nals in prison will cer­tain­ly reduce crime, but reform can be a bet­ter approach for some of them."
Minor is work­ing on fol­low-up research by look­ing at more detailed data from one of the com­pa­nies that was part of the large data set. He is inter­est­ed in look­ing at peo­ple who are tox­ic to those around them but whose behav­ior may not be so extreme that it is actu­al­ly ille­gal. What impact do those peo­ple have on their cowork­ers and company?
He's also inter­est­ed in the phys­i­cal lay­out of a work­space as it relates to tox­ic work­ers, and is look­ing at that in his new research.
"Tox­ic work­ers tend to spread their effect across a whole floor of work­ers as opposed to real­ly high-pro­duc­tiv­i­ty work­ers, who only tend to have a pos­i­tive impact with­in a close dis­tance of those they work with," he says. ​"Should you put [a tox­ic work­er] at the cor­ner of a work­space, in the mid­dle? Should you put them next to a super­vi­sor? Where should the high per­former be? What's an ide­al way to con­fig­ure this to max­i­mize the val­ue of a super­star and de-empha­size the spillover of a tox­ic worker?"
Featured Faculty
About the Writer
Sachin Waikar is a freelance writer based in Evanston, Illinois.
About the Research
Housman, Michael, and Dylan Minor. 2014. "Toxic Workers." Working Paper.
Suggested For You
Most Popular
Most Popular Podcasts